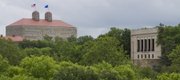 Subscribe to the email edition of Heard on the Hill and we'll deliver you the latest KU news and notes every weekday at noon.
Your daily dose of news, notes and links from around Kansas University.
• A Heard on the Hill commenter yesterday mentioned a bit of difficulty in tracking down information on faculty salaries at Big 12 institutions.
Ask, noble commenter, and ye shall receive. I pulled together this information using data compiled by the American Association of University Professors (medical school salaries, by the way, are excluded from these tabulations).
If you rank the 10 Big 12 schools based on associate professors' salaries (including Texas A&M;, who I'm still counting as long as they're on the athletic schedule), KU's average of about $79,400 ranks right in the middle at No. 5.
Kansas State, as the astute commenter pointed out, is dead last with an average of $72,100.
Interestingly though, KU was third overall in the conference in average salaries for full professors, with an average of $117,700. That's behind Texas ($136,600) and Texas A&M; ($118,900).
• I do realize that athletic conferences, while historically a somewhat meaningful way of grouping universities (at least geographically), is becoming even less meaningful as the conference realignment tectonic plates continue to shift.
So I figured it would also be interesting to look to see how KU compares with the universities it tied with in the latest U.S. News and World Report rankings — namely, the University of Tennessee, the University of the Pacific, the University of Oregon, the University of Oklahoma, the University of New Hampshire, the University of Nebraska-Lincoln, the University of Dayton, Florida State University and North Carolina State University.
Among that group of 10 universities, KU's salaries for associate professors ranks fourth overall. New Hampshire leads the pack with an average salary of $89,500, and Florida State is last with an average salary of $73,700.
KU's average salary for full professors, however, ranks as No. 1 among that group of universities.
• The Hall Center for the Humanities is beginning its annual lecture series with a presentation from Laurence Rees, the former chief of BBC Television's history programs.
Rees, a World War II historian, will present "Talking with Nazis" at 7:30 p.m. Sept. 20 at Woodruff Auditorium in the Kansas Union.
He will feature extracts from his television series "The Nazis: A Warning from History," featuring interviews with former Nazis, including those who worked for Adolf Hitler and those who committed war crimes on his behalf.
Rees has written several books, including "Auschwitz" and "World War II Behind Closed Doors: Stalin, the Nazis and the West."
The lecture is the first in the Hall Center's Humanities Lecture Series, which usually attracts some high-quality speakers.
Here's this year's complete lineup.
• Fill up the Heard on the Hill email tip jar by letting me know what's going on at ahyland@ljworld.com.
Copyright 2018 The Lawrence Journal-World. All rights reserved. This material may not be published, broadcast, rewritten or redistributed. We strive to uphold our values for every story published.