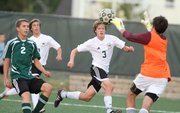 In the age of statistics, every sport has an abundance of numbers that tell a piece of the story.
In soccer, time of possession, shots on goal, passes completed and an assortment of other numbers are tracked. On a beautiful Tuesday night on Free State High's stylish soccer field, the hosts held the advantage in most of those statistics.
But the only numbers that mattered, the bright red ones on the scoreboard, Shawnee Mission South came out on top, scoring a 2-1 victory that sent the spectators home with long faces and quiet tongues.
Rigby McClure scored a goal for the second game in a row, giving the Firebirds a 1-0 lead midway through the first half, but it didn't stand up, and the Firebirds (2-1, 0-1 in the Sunflower League) lost their league opener after the visitors rallied with a pair of second-half goals that gave Shawnee Mission South (3-2, 1-1) its first league victory.
"We had a lot of defensive errors tonight," Free State coach Kelly Barah said. "We need to do all the little things well, and we didn't do that tonight."
SM South became the first Free State opponent to keep Jake Walter from scoring. Walter opened the season with a pair of two-goal games.
"For most players that would be surprising, but it's not that surprising for Jake to do that," Barah said. "His teammates have done a great job of feeding him. That's what I'm the most proud of, the unselfish play, not just the goals."
Free State resumes its schedule at home Thursday against Shawnee Mission West.
"One of the things we take pride in is having a winning record every week," Barah said. "We still have a chance to do that this week."
Copyright 2018 The Lawrence Journal-World. All rights reserved. This material may not be published, broadcast, rewritten or redistributed. We strive to uphold our values for every story published.