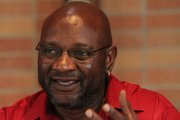 Darryl Hunt spent nearly two decades in prison for a rape and murder he didn't commit.
He's spent the last seven years traveling the country, inspiring others to fight injustice.
Tuesday evening, Hunt brought his message to the Kansas University community for "The Arc of Justice," an event featuring a documentary about Hunt's case, followed by a discussion about race and justice.
In 1984, an all-white jury convicted Hunt of the rape and murder of a woman in Winston-Salem, N.C. Always maintaining his innocence, Hunt secured DNA testing to prove he didn't commit the rape. It took another decade of advocacy and legal maneuvering — as well as a confession by the real killer — to get him out of prison. That was nearly eight years ago, on Christmas Eve.
"At 11:30 in the morning," said Hunt, recalling the moment he was set free.
Giving interviews to several media outlets near the KU campus Tuesday, Hunt talked about his advocacy work, which includes four to five appearances a month.
At the event co-sponsored by the KU School of Law, School of Journalism, and School of Social Welfare, Hunt said he wanted to bring the issue of wrongful convictions to the "consciousness" of those who could be future lawyers, prosecutors and judges.
"Just ... knowing it can happen," Hunt said. "And how easily it happens."
In Kansas, two men, Eddie Lowery and Joe C. Jones, have been exonerated through DNA evidence. Both men were convicted of rapes they didn't commit, but spent years behind bars before clearing their names.
About 70 people watched the documentary about Hunt's case at Ecumenical Christian Ministries, 1204 Oread Ave. After the film, Chancellor Bernadette Gray-Little introduced Hunt before a panel discussion on race and justice.
Hunt said the justice system needs more people willing to fight for causes they believe in.
"Get in the system and make it better," Hunt said. "Don't give up. Keep pushing. Keep asking questions."
Copyright 2018 The Lawrence Journal-World. All rights reserved. This material may not be published, broadcast, rewritten or redistributed. We strive to uphold our values for every story published.