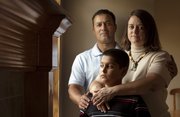 Ahmed Jakmouj was just 6 weeks old on 9/11.
"Change his name," a family friend begged Ahmed's parents. "Don't make his life harder."
The friend was also named Ahmed. He was a professor back home in Morocco, where baby Ahmed's father was from. He knew the world, and he saw discrimination in the baby's future. Having a Muslim name surely would be a handicap in a world where terrorists claiming the faith murdered thousands.
But Ahmed's parents didn't listen. They had named their son Ahmed Jerome, in honor of his grandfathers — one Muslim, the other Catholic — and they were keeping the name.
Ten years later, Ahmed's mother doesn't think the name has set her son back. In his class at Deerfield School, there are all sorts of names.
"They're just growing up in such a less-segregated world," said Ahmed's mother, Melissa Jakmouj. "There is such an array of different colors in his classroom that I don't think he feels like he's different, or that his name separates him."
Ahmed said he and his friends don't talk about 9/11 much. If they do, they'll say it was a sad day, or that the terrorists made a terrible choice.
His parents have taught him about the day, too. They teach that hate and violence are never the answer. They also teach Ahmed some of the historical factors that gave rise to terrorism.
Ahmed, who learns about his mother's Catholicism and his father's Islam, said he isn't bothered by talk that Muslims were to blame for the attacks.
"It doesn't really offend me because I didn't do it," he said.
For children, the attacks might seem as far away as the much older tragedies told by black and white photographs in their social studies books. For parents of these children, there was a palpable sense that the world they had brought their babies into had grown more dangerous.
"You feel this overwhelming sense of tenderness and vulnerability for you and your child," said Lauren Reinhold. "I think it was definitely exacerbated by what was going on."
Reinhold's son Miles Clasen was born Sept. 11, 2001. She didn't know about the attacks until nearly 11 a.m., a little after Miles was born. In the days following 9/11, she and her husband knew far less than their friends and families about what was going on because they intentionally avoided media so they could concentrate on the experience of parenthood.
Still, they could not shake feeling that the world had changed. When Miles was 1 month old, there were reports of anthrax being sent through the U.S. Postal Service. Reinhold would eye mailboxes warily.
One Lawrence mother saw that more dangerous world and decided to change it. Stacy Robarge-Silkiner switched her career from early-childhood education to emergency preparedness. She now works for FEMA and has written emergency plans for the New York Port Authority.
"I want my community, my children and my family to be safe," Robarge-Silkiner said. "I can't carry a hose up 150 flights of stairs, but I can write a plan that tells you how to do it."
Teaching 9/11
For the people educating children who were not yet born or who cannot remember 9/11, handling the anniversary is delicate work.
Becky Reaver, a fifth-grade teacher at Cordley School, said there were many important lessons to be learned from 9/11. She and her colleagues in education were having serious conversations about how to handle it.
She said her students might be too young to grasp the complex issues — from war to international politics — that 9/11 brings up.
"They often want to know more, but they do not always have the depth of knowledge or emotional maturity to process or handle some of the things they might uncover," Reaver wrote in an email. "If they want to talk about it, I will let them and guide their conversation and try to answer their questions in a truthful and sensitive way."
Representatives from several elementary schools said they were not holding any special remembrances. Other schools chose to use the anniversary to say thank you to first responders. At Quail Run School last Friday, second-graders prepared snack trays and presented them to local firefighters and police officers.
A bright spot
Miles Clasen turns 10 today.
In his family, 9/11 is not a day of mourning, but a day to celebrate Miles.
"It still manages for us to give a bright spot to that day," Reinhold said.
Miles did not know his birthday was a significant date in world history until he went to school and an older boy expressed disbelief that he had been born on such an inauspicious day.
But Reinhold doesn't think her son is disturbed by his birthday. It's just another thing that makes Miles Miles.
"The other day he said, 'My birthday is coming up.' I said, 'I know, I keep hearing that in the news.'"
Copyright 2018 The Lawrence Journal-World. All rights reserved. This material may not be published, broadcast, rewritten or redistributed. We strive to uphold our values for every story published.