Photo Gallery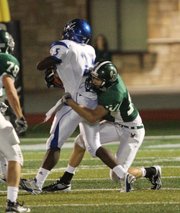 Free State vs. Leavenworth
The Free State Firebirds — perhaps fittingly — secured their first victory of the season by making a play after a miscue.
Following a fumbled snap, FSHS quarterback Kyle McFarland rolled out and found Ryan Patterson for an 81-yard touchdown pass with 1:48 left, sealing a 23-12 Free State victory over Leavenworth on Friday night at Free State's stadium.
"We botched a lot of things, but the good thing is, we came out with a win," Free State coach Bob Lisher said. "Now we've got to try to again go back to the old drawing board and try to correct mistakes."
The play was especially crucial because, facing a third-and-seven from their own 19, the Firebirds were leading just 16-12 and were about to face a punting situation from deep in their own end.
McFarland said he tried to move too quickly after getting the snap and took his eyes off the ball. After picking it up, his first thought was to run to the outside.
"I started to turn the corner, and (Ryan) waved his hand and started going back," McFarland said.
Patterson ran under the deep pass, then did the rest from there, eluding a defender to finish the play with a long touchdown.
"I was like, 'He can't catch me. I need this,'" Patterson said. "So I just started to try to zigzag and do whatever I could to score."
Leavenworth made things close with a big play early in the fourth quarter.
On a third-and-7, Mark Dabeck threw up a deep jump ball, and C.J. Baker raced back to the underthrow to catch it before sprinting to the end zone for a 60-yard reception.
After a failed two-point conversion, Leavenworth (0-2) trailed by four with 7:56 to play.
Calloway Schmidt came up with Free State's other big play in the fourth quarter.
With under four minutes left and Leavenworth driving inside the Free State 20, Schmidt stepped in to intercept a Mark Dabeck pass on third-and-4.
"I guess I just did my responsibility," Schmidt said. "I saw the ball, jumped for it and got my hands on it. I'm just glad I came down with it."
Schmidt's interception was one of four for Free State: two by Schmidt and the other two by Joe Dineen.
Free State (1-1) used a quick-strike passing attack for its first score in the second quarter.
Dineen delivered a deep pass down the right sideline to Blake Winslow, who turned it into a 53-yard reception to the Leavenworth 8.
The next play, Dineen found Tye Hughes in the left flat for an eight-yard touchdown reception, which completed a three-play, 59-yard drive.
Dineen made a crucial play on the next defensive possession, intercepting an overthrown pass by Leavenworth QB Judson Cole as the Pioneers were driving inside the Firebirds' 40.
FSHS extended its lead from there with McFarland, who subbed back in at quarterback.
McFarland was a part of three 10-plus-yard plays on the ensuing drive: a 15-yard pass to Chris Heller, a 19-yard run and a 12-yard pass to Calloway Schmidt.
Demarko Bobo finished the six-play, 59-yard drive with a one-yard touchdown run to make it 14-0, Free State.
The start of the game was delayed one hour, 52 minutes because of lightning.
Coincidentally, last year's game between FSHS and Leavenworth also was affected by lightning, as play was halted in the second quarter before the two teams finished the contest the next day in Leavenworth.
The Firebirds won despite eight penalties for 80 yards, a botched snap on a punt, multiple dropped passes and five fumbles (one lost).
"Just mistakes that shouldn't be happening, and I don't know where they're coming from," Lisher said. "We're making mistakes I haven't seen in 30 years of coaching, but the good thing is, we've got a lot of room to improve.
"Our kids are playing hard, but we can't play hard and continue to make this many mistakes and continue to have success."
Copyright 2017 The Lawrence Journal-World. All rights reserved. This material may not be published, broadcast, rewritten or redistributed. We strive to uphold our values for every story published.