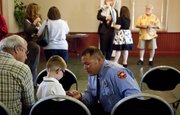 The Lawrence Chamber of Commerce Friday highlighted firefighters and officers who participated in a dramatic June 2009 rescue of a boy from the Kansas River as part of the inaugural class of the chamber's Valor Public Safety Awards.
"We sometimes take for granted the sacrifices made by our public safety personnel and their families," said Cindy Yulich, chairwoman of the chamber's board of directors. "The approaching anniversary of the Sept. 11 attacks is a dramatic reminder of how important their work is and how much we rely on their commitment and courage every day."
The first class of valor award recipients includes 14 firefighters and officers from four Douglas County agencies selected from a pool of nominees.
"This is just representative of the things public safety personnel do on an everyday basis to uphold safety and go beyond regular expectations on a regular basis to make this community safe, so thank you for all that you do," Lawrence police Chief Tarik Khatib said.
Here are the inaugural winners:
Lawrence Douglas County Fire Medical
• Engineers Leo Leiker Jr., Mark Parker and Troy Gourley and retired Capt. Sandy Herd received medals for their actions in the June 5, 2009 rescue of the 14-year-old boy who slipped into the water and was stuck under a large log.
• Firefighters Scott Seratte, Eric Miller and Todd Dwyer rescued one person from a structure fire March 6 in southeastern Lawrence.
"It's always a privilege to work with individuals who perhaps go a little bit extra each and every day," Fire Chief Mark Bradford said. "And then when you look at recognizing those that continue to just raise the bar each day, I think the two incidents that these members are being recognized for are an example of that."
Lawrence Police Department
• Officer Tony Garcia also participated in the June 2009 river rescue.
• Officer Myrone Grady, the school resource officer at South Middle School, performed the Heimlich maneuver in January to help a student who was choking.
• Officer Ronald Ivener in May used an automated external defibrillator to help someone survive in a medical emergency.
Kansas University Public Safety Office
• Officer Robert Blevins rescued a student who was distraught and in danger on a high building.
"Through Officer Blevins' effort this person ended up getting treatment and is back in class today," Chief Ralph Oliver said.
Douglas County Sheriff's Office
• Sgt. Clark Rials and Deputy Dale Flory also assisted in helping save the boy in the river rescue.
• Detective Jay Armbrister saved one person who was injured in a January 2009 rollover crash in subzero temperatures.
"He assisted in getting that individual out of the vehicle and got him medical attention," Sgt. Steve Lewis said. "In disregard for his own personal safety, (Armbrister) did what had to be done, which is what all of us in the first responder realm do when we're called on."
This is the first year for the program of the chamber in partnership with NIC Inc. The chamber will reveal more details about each honoree during a luncheon at 11 a.m. Oct. 18 at Holiday Inn Lawrence, 200 McDonald Drive. The event is open to the public. Tickets cost $35 per person and $25 for public safety employees.
The children of the winners are eligible to receive a one-time $1,000 educational stipend when they enter community college, technical school or a university. The scholarships are funded by private donations and proceeds from the luncheon and other events.
Crown Automotive is sponsoring a golf tournament fund-raiser Oct. 7 at Alvamar Public Golf Course. More information about the tournament and awards is available at www.lawrencekansasvalorawards.org.
Copyright 2018 The Lawrence Journal-World. All rights reserved. This material may not be published, broadcast, rewritten or redistributed. We strive to uphold our values for every story published.