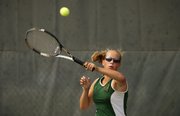 Free State High tennis coach Oather Strawderman omitted all names when describing his team's sweep of the Lawrence quad meet Wednesday.
FSHS used a combined effort to beat Shawnee Mission South, 3-1; Lawrence High, 4-0; and Olathe South, 4-0. There were no great individual feats, which is why Strawderman didn't mention anyone in particular. He called it "Free State tennis."
"We performed admirably today," he said. "I don't think that anybody really stood out. We just had a solid all-around performance."
Caitlyn Tilden and Guin Toalson reunited as doubles partners this season for the first time since their sophomore year and won all three matches 8-2, 8-2 and 8-3.
This was the first time FSHS played against other schools in its conference.
"We were good last year, and I thought we would have the chance to be pretty good this year," Strawderman said. "But I was really pleased with how well we performed today."
FSHS is established one of the top teams in the conference, but Lawrence High is still working its way up, and Wednesday was a step in the that direction.
Coach Chris Marshall said several individuals improved while the Lions won their first singles matches of the season. Natasha Hurt (8-3), Mollie Noller (8-5) and Chloe Clement (8-1) all won singles matches for Lawrence, while the doubles team of Brooke Bramen and Katie Gaches captured the only doubles match of the day.
"I've seen improvement and practice starting to carry over in points," Marshall said.
As a team, LHS beat O-South, 3-1, but lost to SMS and FSHS.
Even though some players were beaten, Marshall didn't look at the final score to see progress. Clement, for instance, lost to Free State's Alexis Czapinski 8-0, but it wasn't the whole story.
"She won a lot more points than what the score showed," Marshall said. "I think she won two or three points in almost every game, which means each game was competitive."
Lawrence's Zoe Schneider said there was still a lingering transition getting on the same page as Marshall in his first month as head coach.
"We're doing pretty well," she said. "I think we could obviously still improve."
Copyright 2017 The Lawrence Journal-World. All rights reserved. This material may not be published, broadcast, rewritten or redistributed. We strive to uphold our values for every story published.