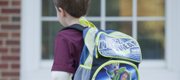 Subscribe to the email edition of First Bell and we'll deliver you the latest local education news and notes every weekday at noon.
Area marching bands will be participating in Kansas University's Band Day Parade, set for Saturday afternoon in downtown Lawrence.
The lineup includes 33 bands, starting with the Marching Jayhawks and ending with the 312th U.S. Army Band.
Among high schools with bands marching in between and in step: Free State, Lawrence, McLouth, Baldwin, Perry-Lecompton and Tonganoxie.
The parade starts at 1 p.m. at Seventh and Massachusetts streets, and the bands will make their way down Massachusetts to South Park. There, many of the musicians will climb aboard buses to head to Memorial Stadium, where they will rehearse for their halftime performance during the Jayhawks' 6 p.m. game against Northern Illinois.
One note about the parade order: Leading the way, just as they always have, will be the 240 members of the Marching Jayhawks. Next will be the 150 Marching Lions of Lawrence High, immediately followed by 126 Marching Firebirds of Free State.
And don't go blaming the Crimson and Blue for favoring the Red and Black over the Green and Silver.
"We alternate, year to year," said Tom Stidham, associate director of bands at KU. "Last year Free State was first. This year it's Lawrence High.
"We don't want a fight."
•••
And don't expect any surprises in the musical lineup for Band Day, at least not at Memorial Stadium.
The 30 bands scheduled to play together on the field at halftime will follow a familiar musical script:
• "I'm a Jayhawk."
• "Stand Up and Cheer."
• "Kansas Song."
• "Fighting Jayhawk."
• Patriotic finale, one arranged Bob Foster, former KU director of bands, based on the "Battle Hymn of the Republic."
Stidham cited school districts' budget challenges as among the reasons the playlist has remained unchanged in recent years. KU owns the rights to its own songs, and therefore can grant each band the ability to print off sheet music and play on without financial worry.
"We simply put them online and they can play those," Stidham said.
And it doesn't hurt that bands from all over the state are playing the Jayhawks' tunes. Band Day remains a key recruiting tool for the Marching Jayhawks.
•••
Related document

Science Fair brochure ( .PDF )
Planning for this (academic) year's Lawrence school district Science Fair is underway.
The fair is set for Feb. 10 and 11 at South Middle School.
The district's Science Fair Committee next meets at 4 p.m. Sept. 12, at district headquarters, 110 McDonald Drive. A half-day "Science Fair How-To Session" is set for 12:30 p.m. to 3:30 p.m. Sept. 27, for district employees interested in leading students in the science fair process.  
The fair is organized by the district and the Douglas County Science Fair Association, and is open to K-12 students in the district.
For more information, see the adjacent brochure.
Copyright 2018 The Lawrence Journal-World. All rights reserved. This material may not be published, broadcast, rewritten or redistributed. We strive to uphold our values for every story published.