Photo Gallery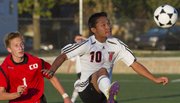 LHS soccer falls to BVW
LHS soccer falls to defending state champ BV.
Lawrence High's boys soccer team did everything right against defending state champion Blue Valley West.
The Lions controlled the game on defense and offense, and they passed well. The ball just didn't go into the net in a 1-0 overtime loss on Tuesday night at LHS.
"We should have won," LHS senior goalie Tanner Click said.
Lawrence lost after yielding the only goal to Blue Valley West less than two minutes into overtime. Click did all he could to attempt a block, but the ball flew over his outstretched arms and into the net. He hit the ground and stayed there for a few moments thinking about how close victory was.
The Lions (0-2) missed six makeable shots, and the Jaguars didn't get close to scoring until late in the second half. For LHS, senior Chandler Thomann and junior Gavin Fischer were the closest to scoring, with Thomann's point-blank shot sailing over the goalpost and Fischer's kick missing just to the right.
Regulation ended, 0-0, and the Lions still looked like the team in control. Then there was the BV West shot that no one could defend.
"It was just a really good shot, to be honest," Click said.
The same thing happened last week against Manhattan. Lawrence took and missed plenty of shots, but the opposition converted its few shots into goals.
LHS coach Mike Murphy was upset about Tuesday's result, but he couldn't complain about the performance. The Lions played well against a championship team and, like last week, ran into some bad luck.
"I don't think anything is going to shake these guys' confidence," Murphy said.
The team was clearly down immediately following the loss. But by the next game, this loss should be forgotten.
Besides, if the tables were flipped, Click said, Lawrence could have made that same shot.
"There's nothing I can really do except encourage the guys because I know every one of these guys could easily put in a shot like that if they get the chance," Click said.
The string of bad luck is frustrating, but Murphy is still seeing improvement. That is the goal at this point.
"One of these days, we'll break through," he said. "And once we do, look out."
Copyright 2018 The Lawrence Journal-World. All rights reserved. This material may not be published, broadcast, rewritten or redistributed. We strive to uphold our values for every story published.