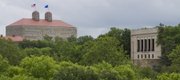 Subscribe to the email edition of Heard on the Hill and we'll deliver you the latest KU news and notes every weekday at noon.
Your daily dose of news, notes and links from around Kansas University.
• Here's a few KU law school goings-on, courtesy of the student publication the Kansas Law Free Press.
Dean Stephen Mazza has announced a few staffing changes, including the hiring of new assistant dean for admissions, Steven Freedman.
He joined KU from the admissions office of Drexel University Law School.
"During that time he helped increase Drexel's applicant pool dramatically and recruited in-coming classes with impressive credentials," Mazza wrote.
KU Law is also looking for an assistant dean for career services to replace Todd Rogers, who left for the University of Colorado.
Also leaving KU Law is Wendy Rohleder-Sook, KU's associate dean for student affairs, who will work as a financial aid counselor at Fort Hays State University in her hometown.
Mazza also touted a new faculty hire, Uma Outka, who will teach environmental law. Mazza said KU had to "compete with several law schools to convince her to join us and I'm pleased to say we won out in the end."
Outka's husband, Paul, will also be joining the KU English faculty.
• Before we leave the Kansas Law Free Press and the law school completely, I was quite amused with this little item, too.
It's not quite Extreme Makeover: Dean Edition, but I did notice KU's freshly minted law dean sporting some new spectacles recently, and the publication gives a bit of the back story.
It apparently it took the advice of a few faculty members to get the dean to make the switch (check out the before-and-after photos, too).
Though I'm hardly a fashion expert by any stretch, I am a fellow black-rimmed glasses-wearer, and I can report that after I made the switch, it seemed like people were lining up to tell me how horrible my old glasses were. So it's probably a good deal for the new dean.
• KU has a representative in a Hall of Fame that I bet you didn't even know existed.
It's the GIS (that's geographic information system to you) Hall of Fame, and Barry Wellar, a former KU geography professor is in it. Here's a complete write-up.
Wellar, who was on the faculty here from 1969 to 1972, helped form some of the very first GIS courses in the country, according to the information from the GIS Hall of Fame, which would probably know this kind of thing.
After leaving KU, Wellar went on to teach at the University of Ottawa in Canada, where is now retired as a professor emeritus.
GIS systems have since become much more widely adopted, including being used by the City of Lawrence. http://lawrenceks.org/information_systems/gis
They have applications in urban planning, transportation and many other areas, too. It's a nice recognition for an early adopter of the technology here at KU.
• If you send me a tip for Heard on the Hill at ahyland@ljworld.com, I'll be sure to put you on the fast track to a spot in the Heard on the Hill Hall of Fame. Now if we can just decide where to put the brand new building to house it…
Copyright 2018 The Lawrence Journal-World. All rights reserved. This material may not be published, broadcast, rewritten or redistributed. We strive to uphold our values for every story published.