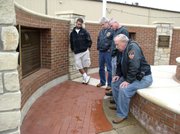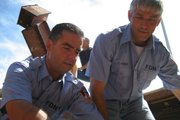 Anthony — The sun will rise in New York City on Sept. 11.
Lt. Joe Huber of the New York City Fire Department will be at Ground Zero when it does. He'll be part of a ceremonial detail reading the names of those people who paid the ultimate price 10 years ago.
"I never look forward to going there," Huber said of the site of the terrorist attacks that toppled New York's Twin Towers, put America on the path of dual wars in Iraq and Afghanistan, and created a date that never will be forgotten but often isn't uttered by those who are closest to it.
"New York City firemen around where I work don't talk about it. We don't discuss it. It never comes up. But every so often you have to revisit it."
For about 90 days following the attacks, Huber stood at Ground Zero. He identified remains — not bodies, much smaller than bodies. He marked the spot where they were found so that we will never forget.
• • •
On the west end of Anthony's Main Street, which inexplicably has three stop lights, Memorial Park sits nearly in the shadow of the twin grain towers that give this community elevated standing in Kansas' Wheat Country.
On some mornings, like this one, you can find Debbie Mangen in the park with a broom, sweeping plaza bricks that encircle three pieces of steel from New York's fallen World Trade Center.
"This year has been hard," Mangen said "because everything is so dead around here."
The leaves are dying too soon in this town of about 2,000 people, a little more than an hour outside of Wichita. Since May, the community has received less than 2 inches of rain. The fellows across the street could tell you all about that. Over in the co-op office, they gather around this town's version of the Big Board — one that leans against the front window listing the daily price for wheat, corn, soybeans and milo — sometimes trading grain but frequently trading gossip.
Today, it is 105 degrees by noon, but it is important to Mangen that the bricks be swept clean. She helped lay them when the community felt moved in the aftermath of 9/11 to raise more than $80,000 in private funds to build a Sept. 11 memorial in the corner of this park. There's the World Trade Center steel, a stone from the Pentagon and soil from the Shanksville, Pa., crash site where the terrorists were foiled.
Then there are the bricks. They have names on them, really from a little bit of everywhere. There are many from Kansas communities, but many from New York City, too. Like the bricks for Michael Boyle and David Arce, the two New York boys who grew up together, went to Little League together, went to fire school together, served in the same fire house together. When they found their bodies in the rubble, they were together, side-by-side.
"It means more when you know the story behind the bricks," Mangen says as she leads a visitor around.
And there are visitors. This town is served by nothing more than a mish-mash of state highways that have plowed fields that run almost from shoulder to shoulder. But people find their way here, often from far away.
Two New York City firefighters, Lt. James Beltrami and Capt. Rich Kirschner, will be back for a special ceremony on Sept. 10. They won't need directions. For Beltrami, this is his third time back — this year alone.
"It restores my faith in humanity every time I go out there," Beltrami said.
• • •
It started out as a guy thing.
It was Sept. 11, 2004, and the residents of Anthony had just dedicated their memorial. Beltrami and about five other firefighters from his Bronx firehouse had made the trip for the ceremony.
Afterward — after the third-graders had recited the Pledge of Allegiance (now seniors, they'll do that again on Saturday), after the town's fire whistle had blown four times to precisely mark the minute each plane crashed (those whistles blow every Sept. 11 here) — a few fellows went to have some cool refreshments.
"It was just guys talking like guys do," Beltrami said. "We got to talking about hunting, and we told them that we liked to hunt. They said we were crazy and that we had to come out here to hunt."
So they did. Every year, Beltrami and usually a group of three other firefighters travel to Anthony. Members of the local fire department stake out spots and build deer stands for the bow hunters. And then they hunt, lie and each makes fun of the other guy's accent.
"It has become something that I never imagined," Beltrami said.
The road between Anthony and New York runs both ways. Many residents of Anthony have made the trip to New York City, including Myron Wiechman, a hardware store clerk who hooked the group up with hunting licenses for the first trip.
Wiechman said there is no better way to see New York than with a group of the city's firefighters. They took him on an evening river cruise, let him use a cabin in the Catskills and took him to the Ground Zero site.
"We told them that we didn't need to see it," Wiechman said. "But they said, 'We want you to.'"
The Kansas crew has shown the New Yorkers some things too. Wiechman said he and his wife fix the crew supper during their hunting trips. One evening they didn't come back so he went to find them. When he did, the New Yorkers were flat on their backs on the hoods of the pickups, staring into the sky.
"They said, 'We don't get to see the moon like this in New York,'" Wiechman recalls. "There is so much we take for granted, but when you start looking at it through someone else's eyes, you realize we're pretty fortunate."
• • •
It was a rough introduction.
John Schott, the mayor of Anthony, called the number for the firehouse of Engine 88, Ladder 38 of the New York City Fire Department, the house right next to the Bronx Zoo. He'd gotten the number by calling a telethon for a firefighter relief fund in the days following 9/11. He told the telethon worker he didn't want to donate to the telethon. He wanted to find the name of a firefighter who had lost his life in the attacks. His little tiny Kansas community wanted to donate money directly to a family.
The telethon worker, a firefighter, finally gave him a number and a name. Schott called the firehouse number and asked for Joe Spor, and Schott will never forget what came next.
"What? Are you (expletive) kidding me?"
As soon as Schott heard that New York "what," he knew what he had done. The telethon worker didn't tell him to ask for Joe Spor. Joe Spor was the firefighter who lost his life.
Schott called back and explained his mistake. He ended up on the phone with Huber, who told him about his friend and co-worker Joe Spor Jr. He was 35 years old and left behind a wife, four kids and a house that was exposed to the elements because he had been remodeling it.
Huber was happy enough to talk about his fallen friend, but there wasn't a chance he was going to give this Kansas guy the family's address. Instead, he told Schott that if his town wanted to send some money, to send it to the firehouse and he would make sure the family got it.
"Frankly, I thought it was a scam," Huber says now. "I was sure that was the end of it."
But a few days later, a check for about $2,500 arrived in the mail. It was enough for the firefighters to buy supplies to get the house buttoned up for the winter.
Huber then thought that was the end of it. But the folks of Anthony now had the firehouse's address. An elementary school class decided it wanted to "adopt" the firefighters. They made cookies and sent them off. They would write letters and send them off. They would make pictures and send them off.
And somewhere, in one of those packages, Huber got the message. It wasn't going to end.
"They just never stopped coming," Huber said. "They never gave up. We didn't understand it, but it helped tremendously."
So much so that Huber decided to go to Anthony in 2002. The Kansas City St. Patrick's Day Parade wanted a New York City firefighter. Huber said he would attend if they could get him to Anthony. When he arrived in this community about 60 miles southwest of Wichita, he went to the school and saw the classroom full of children.
"That's when I saw that every word I had written to them was posted on their classroom wall," Huber said. "They were keeping tabs on us night and day."
• • •
Schott, who no longer is the mayor of Anthony but still owns the local hardware store, said if there was ever a man meant to be mayor, it is Huber. He'd have to decide whether to run in New York or Anthony because he seems loved in both places. But Schott says he's never met a more gregarious individual.
That's probably why the picture he has of his friend stands out so much. They were at Ground Zero. Huber had taken Schott and his family there on a trip to New York. The picture shows gregarious Huber trailing far behind the group, noticeably bent.
"When we got back to his house, he was Joe again," Schott said. "I asked him about it, and he said 'John, it just makes me physically sick to be there.'"
Huber won't be at Anthony's Sept. 11 remembrance. He'll be at Ground Zero, but he is making a trip to Anthony at the end of the month. His friends are eager to see him.
"You know, 10 years ago, we were just trying to help a family," Schott said. "We could have given our money to the Red Cross or the United Way, and they would have done wonderful things with it. But if we would have done that, none of this would have happened. None of it."
Huber is ready to see his friends, too.
"The memorial is incredible," Huber said. "A small town raised this ridiculous amount of money, and they have created the only place I feel like I can find some sort of solace."
Huber stops for a moment. He's done that several times now to let his emotions settle.
"I'm embarrassed," he says at one point. "It is strange that I'm getting emotional. I've told this story so many times. Maybe it is getting closer."
Ten years. The sun also will rise in Anthony on Sept. 11.
"I think we'll always be connected now," Huber said. "That little town and my firehouse. We will always be connected. We are always going to be part of the same memory of Sept. 11."
Copyright 2018 The Lawrence Journal-World. All rights reserved. This material may not be published, broadcast, rewritten or redistributed. We strive to uphold our values for every story published.