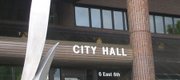 Subscribe to the email edition of Town Talk and we'll deliver you the latest city news and notes every weekday at noon.
News and notes from around town:
• They can debate public funding for the arts up at the Statehouse, so why not at Lawrence City Hall? Commissioners will get the chance on Tuesday. Theatre Lawrence — previously known as the Lawrence Community Theatre — is asking the city to make a $100,000 donation to the group's fundraising campaign to build a new theater in West Lawrence. The $100,000 would be spread out over the next five years, meaning the city would have to come up with $20,000 for 2012. The theater group is in the final stages of raising $6.2 million for the 300-seat theater, which is slated for the Bauer Farm development northeast of Sixth and Wakarusa. The group also is facing a curtain call, of sorts. If the campaign doesn't reach its $6.2 million goal by the end of September it is slated to lose $1.5 million in out-of-state "challenge grants" that were issued with the caveat that the project would meet its funding goals.
I have no idea how city commissioners will react to the funding request. One the one hand, the city has been in the business of funding the arts for quite awhile. In fact, this $20,000 per year donation wouldn't even be their largest venture into arts funding. The city in 2012 is budgeted to provide Van Go Mobile Arts $79,000 in funding. The city has been providing that level of funding to Van Go — which helps disadvantaged youth — for several years. (Think how much they would get if they spelled van Gogh right.) I'm sure that Theatre Lawrence will point out it also runs a theater program for youth, and it, too, serves low-income families. But Van Go is still not the biggest arts recipient of public money. That title goes to the Lawrence Arts Center. It receives $90,000 in general fund tax dollars, plus another $25,000 in liquor tax revenues to support a scholarship fund. In addition, the city is budgeted to provide $23,000 to the Lawrence Cultural Arts Commission, a city-appointed advisory board that hosts the downtown outdoor sculpture exhibition and other events. I have not seen where that group has made a recommendation on Theatre Lawrence's request.
On the other hand, the request does present some difficulty for commissioners because they have told all outside agencies — that includes lots of social service agencies that provide everything from food to counseling — that there will be no increases in city funding for social service groups. In fact, some social service providers — like The Salvation Army — received a budget cut from the city in 2012. Among the groups that receive social service funding from the city is the Lawrence Community Shelter. It also has a fundraising campaign underway. It will be interesting to see if the community theater's request for public funding creates a precedent for other campaigns to make a trip to City Hall.
We'll see what script the city reads from on Tuesday. One possibility, it would seem, is that the city could make the donation but perhaps require the community theater to add a surcharge to their ticket prices, which could be used to repay the city over time. Or maybe city commissioners could negotiate a deal that would allow them to have their own production out at the theater. I don't even like musicals, but I would pay to see the City Hall version of Westside Story. Maybe the Planning Department vs. Public Works. Ooh, maybe not. If it helps, I would sing Take Me Out to the Ballgame at intermission.
• Speaking of drama, speaking of planning, speaking of events that steal hours from my life, it looks like the debate over whether to allow a Lowe's to build a store just west of Sixth and Wakarusa Drive will have a new character. Gwen Klingenberg, president of the Lawrence Association of Neighborhoods, told me that group's board has voted to formally oppose Lowe's request for rezoning. The rezoning is tentatively scheduled to come up at the Planning Commission's October meeting. Klingenberg said the group feels that adding about 150,000 square feet of retail to the intersection will just be too much when it comes to traffic in the future. Klingenberg conceded that traffic from the nearby Wal-Mart development has not produced major problems, but she also noted that the area is not yet fully developed. She said that is when neighbors fear the traffic will become a problem. She also said LAN is concerned that if Lowe's is allowed to build on the site that it would open the door for commercial development at every intersection between Wakarusa and the South Lawrence Trafficway. That, she said, would create major traffic problems in the future. Developers for the Lowe's project, of course, disagree. They argue that the road and intersection is built to handle the additional traffic Lowe's will bring. Plus, Lawrence architect Paul Werner told me he hopes city commissioners keep LAN's comments in perspective. He said he has heard from "quite a few" neighbors near the site that support the idea of a Lowe's at the location. It will be interesting to see if the West Lawrence Neighborhood Association takes a vote on the project, and if so, how many people show up to vote. That neighborhood, it seems, has an interesting choice to make. The proposed Lowe's site already is zoned for a large-scale apartment complex. Would the neighbors prefer apartments or retail?
• I still believe that the Lowe's project has solid support from city commissioners as it stands right now. I think a bigger hurdle than any LAN objections will be whether Lowe's asks for any incentives for the project. As I previously mentioned, the company informally inquired about a small, special taxing district for the store. I'm told that idea got a chilly reception from some city leaders. I'm sure Lowe's picked up on that, but I've heard no official word on whether Lowe's has made a decision about whether to formally ask for incentives.
• Hold on to your fedoras folks, I'm getting word of a pending bank robbery in Downtown Lawrence. The Eldridge Hotel and Teller's restaurant are planning an event this month to re-enact the 1932 robbery of the First National Bank. Clyde Barrow of Bonnie and Clyde fame led the stick-up, and of course, Teller's occupies the building that used to house First National Bank. Several accounts tell that Barrow and two of his buddies stayed at The Eldridge Hotel for three days to stake out the First National Bank Building. So, The Eldridge and Tellers are teaming up to re-tell the story. The Eldridge will host a cocktail party before the event. (I do find a good drink helps a story.) Then the re-enactment will begin. Actors with fake guns will walk from The Eldridge to Teller's, enter the building, give the crowd the what-for, take the fake loot, and get into a 1930s vehicle and make their escape. Police will stop traffic in all directions to allow the car to pull out and leave, but the car will obey all traffic laws after that point. (Now, that's the way to work together on a heist.) If you haven't heard much about this heist, apparently it isn't a real well-known part of Lawrence history. According to folks who have researched it for The Eldridge, the police were never called to the scene because the bank was embarrassed about the robbery and it was never mentioned in the media either. But The Eldridge folks say the robbery is mentioned in a couple of books — "Running with Bonnie and Clyde" by John Neal Phillips and "My Life with Bonnie & Clyde" by Blanche Caldwell Barrow. In today's terms (I guess that means adjusted for inflation), about $550,000 was stolen.

City commissioners have to approve a permit for the re-enactment. Commissioners are scheduled to do so at their Tuesday meeting. If successful, The Eldridge hopes the re-enactment will become an annual event. The event is scheduled for about 6:30 p.m. on Sept. 30. (Which is my wife's birthday, meaning regardless of whether Clyde is in town or not I suspect my bank account will be swept clean.) Information about tickets and pricing will be announced after city approval for the event is gained.
Copyright 2018 The Lawrence Journal-World. All rights reserved. This material may not be published, broadcast, rewritten or redistributed. We strive to uphold our values for every story published.