Show info
Annie will run from Dec. 3-5, Dec. 9-12 and Dec. 16-19 at the Lawrence Community Theatre, 1501 N.H. For ticket information call 843-7469.
-->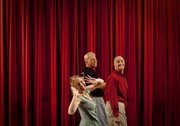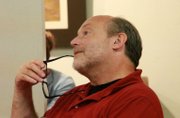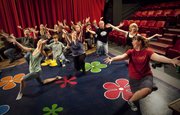 On the street
"I actually come from a theater family, so part of my rebellion was the rejection of theater."
If Harry Caray could do it, surely I could too.
The famed baseball announcer had sung a rendition of "Take Me Out to the Ball Game" during the seventh inning stretch of countless Chicago Cubs games. A longtime pitchman for Budweiser, Caray often sang like his vocal cords had been well-lubricated with that fine product. And everybody still seemed to love the show.

So, I stepped into the Lawrence Community Theatre near 15th and New Hampshire thinking I could do this. It was open auditions for the theater's December production of "Annie," and I was set to sing a little "Take Me Out to the Ball Game" to woo the producers.
Then, I find myself sitting with 30 other fellow audition participants in a cramped basement, and my thinking changes.

The first contestant in what seems to be Lawrence's version of "American Idol" steps forward and nicely sings "If You're Happy and You Know It." At that moment, I know this: I'm happy I didn't go first.
Up next is a woman who sings a beautiful version of "Little Girls." Now, I'm thinking: What a suck-up. Singing a song from the actual show. (Or so I gather. I've never actually seen "Annie.")
Yeah, that's just sour grapes. Mainly what I'm thinking is: I wish I would have gone first.
It's going to be that type of night.
•••
I'm here at this mid-October audition because I want to get a peek at the business of community theater. Lawrence's theater group has embarked on a campaign to raise $6.2 million to build a new 300-seat theater near Sixth Street and Wakarusa Drive. Already, Theatre Lawrence — as the group now is named — has raised more than $4 million.
That's why I'm here. Natalie Donovan, on the other hand, is here because the produce section of Dillons is an uninspired audience.
"It seemed like it was time to do something with my silliness," Donovan said. "I just can't tap dance in grocery stores for the rest of my life. I've decided I'm almost 40 and it is time to do something bold and a little daring."
Donovan is a newbie. This is her first theater audition, and she has taken dance classes and voice lessons to prepare.
"I learned," Donovan said after her audition, "that it is more difficult than karaoke, for sure."
It was Shakespeare who said "all the world's a stage." I'm not sure who, if anyone, said every stage is a classroom. But somebody should because it seems everyone who stepped on the stage at these auditions could recite a lesson it taught them at some point.
For Donovan, her lesson went beyond karaoke. In a way, it is one of the greatest lessons of all: Perhaps a husband can be right.
"I was going to chicken out tonight," Donovan said. "But my husband told me I had an appointment at the theater. Now I'm glad. I didn't pass out or anything, so I think it was an unmitigated success."
•••
Holy Cow — as Mr. Caray would say — somebody brought their own pianist to this audition. I've long heard the advice to not play a man who brings his own pool cue to a game. Surely there must be some equivalent for people who bring their own musicians to an audition.
My discomfort grows as a man steps forward and not only sings a song for the producers but also spells it. Yeah, the song requires him to spell some of the words — very quickly — all while staying in key. I'm already questioning whether I can sing, and several Journal-World copy editors have assured me I can not spell.
But my turn does come, so I try to summon some inspiration. As a good husband, I think of my lovely wife. Before the audition, I told her that I had asked theater director Mary Doveton what song a person who can't sing should sing. Mary had answered "Take Me Out to the Ball Game." Then, I sang the song for my lovely wife.
As I'm preparing to begin my solo, I remember my wife's reaction: Mary was wrong.
•••
At 16 years old, Erin Riley is an international performer. It started in the third grade when she was a witch in a spoof of "Macbeth."
"I just remember that was the coolest thing ever, and I've been looking for auditions ever since," said Riley, who attends Free State High.
Her search has included spots like Georgia — the country, not the state — Germany, and "random places in the world." She has a military father — he's in Afghanistan currently — to thank for the travels.
And she says theater has made them easier.
"I have to move around and make new friends all the time," Riley said. "The theater helps me take out a part of myself and just give it to people and really be outgoing."
It is a piece of advice that also works well in other parts of life.
"Just show people that you love what you're doing," Riley said, "and they'll love it with you too."
•••
"It's a buffalo without the shuffle," someone exclaims from the dance floor.

Oh, now you tell me. It is a buffalo without the shuffle. Sure, now it makes sense.
As I'm standing on the stage trying to learn a dance routine that seems destined to physically hurt me or perhaps the person standing next to me, I recall that I once wrote a newspaper article about a wild buffalo that charged me. I felt more comfortable then than I do now.
With grapevines, a spin, hand thrusts and a leg kick, I really am concerned that I may hurt someone.
For a moment, I am pretty sure it will be my cameraman, who has a wide smile and a video camera pointed right at me.
"This," he says, "is going to be the most watched video ever in the newsroom."
•••
Knute Pittenger must have been giving off some type of look at his daughter's tumbling class. One of the other parents in the class asked him if he had any interest in trying out for a part in a Baldwin City production of "Fiddler on the Roof."
Pittenger, actually, did. That was in 1991, and since then Pittenger has been in — among others — "Beauty and the Beast," "The King and I," "A Christmas Story," and "Annie." (Wish I would have seen it.)
"Most of it for me is that I love to sing, and the theater is mostly pretending to be someone else and having a really great time with it," said Pittenger.
And sometimes you get to surprise the heck out of people. Pittenger is best described as a hulk of a man. He is big and broad with a handlebar mustache that looks custom-made to ride atop a Harley. You've maybe seen him. He's a utility worker for the city of Lawrence.
And about one night per year, you can see a whole slew of men who work with water meters and sewer pipes fill the seats of the community theater.
"Each year I sell out one show with nothing but my friends, family and co-workers," Pittenger said.
For those who haven't seen him sing or act before, they often leave surprised. Pittenger said surprise is one of the great aspects of the theater.
Perhaps the most common surprise, Pittenger said, is how the theater allows you to do things you'd never do otherwise. The real surprise is that it actually doesn't.
"It is really the other way around," Pittenger said. "You have this ability and you find it at the theater, and then people start saying I can see why you do theater. And then you end up seeing it too."
•••
If I wanted to talk like an actor, I would say Charlie Goolsby is a very giving director. I had sat through about 25 auditions and watched the director — my director? — give praise and encouragement to everyone who stepped forward.
So as I finished the last note in "Take Me Out to the Ball Game," and waited for the applause to end (everyone gets applause at community theater), I wondered what he would say now.
"Well," Goolsby says, "I recognized it."
As do I recognize my thespian future.
So, look for me in the shadows of the crowd, not the bright lights of the stage. But did I learn anything from all this? You bet. I'm no Harry Caray, yet.
Maybe another Budweiser will help.
Copyright 2018 The Lawrence Journal-World. All rights reserved. This material may not be published, broadcast, rewritten or redistributed. We strive to uphold our values for every story published.