Photo Gallery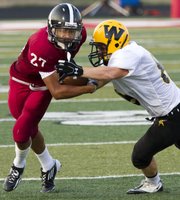 Lawrence High football vs. Shawnee Mission West
Game statistics
Lawrence 35, SM West 12
SM West 6 6 0 0 — 12
Lawrence High 14 7 0 14 — 35
INDIVIDUAL STATISTICS
RUSHING
LHS: Charles Jackson 20-169, Brad Strauss 14-119.
SMW: Ricco Hopkins 1-85, Armani Williams 14-31, Tre Burt 6-28, Brett Sterbach 1-1, Andre Maloney 1-0.
PASSING
LHS: Strauss 20-27-192.
SMW: Williams 3-9-45.
RECEIVING
LHS: Drake Hofer 7-65, Erick Mayo 5-50, Anthony Buffalomeat 5-47, Garrett Cleavinger 3-30.
SMW: Joel Spiller 1-32, Kez Demby 1-22, Ricco Hopkins 1-0.
HOW THEY SCORED
First Quarter
9:48 — Mayo 27 pass from Strauss. Anthony Rosen kick. (Lawrence 7, SM West 0).
2:03 — Hopkins 85 run. Conversion failed. (Lawrence 7, SM West 6).
35.8 — Hofer 16 pass from Strauss. Rosen kick. (Lawrence 14, SM West 6).
Second Quarter
11:18 — Spiller 32 pass from Williams. Conversion failed. (Lawrence 14, SM West 12).
2:32 — Strauss 4 run. Rosen kick. (Lawrence 21, SM West 12).
Fourth Quarter
8:30 — Strauss 23 run. Rosen kick. (Lawrence 28, SM West 12).
43.0 — Jackson 3 run. Rosen kick. (Lawrence 35, SM West 12).
Charles Jackson and Brad Strauss had no problem displaying the dedicated work they put into offseason football training in Lawrence High's season opener on Friday night at LHS.
Senior running back Jackson and junior quarterback Strauss led the Lions to a 35-12 victory against Shawnee Mission West, a team that has haunted LHS in recent years.
"It makes me feel good," Jackson said. "That work paid off. All summer."
That work, which included heavy weightlifting and spread offense formations, was all over the field in Strauss' 192 passing yards and 119 rushing yards and Jackson's 169 rushing yards. Together, they had all of the Lions' touchdowns, with scores also going to junior receivers Drake Hofer and Erick Mayo.
Strauss completed 20 of his 27 passes, but it's the amount of throwing that was different. Lawrence typically operates with a run-first mentality.
LHS coach Dirk Wedd looked at his quarterback in the locker room and laughed.
"He's a dual-threat quarterback that this offense was invented for," Wedd said of Strauss.
The team overcame Strauss' only faults, which came in the first half when he threw two interceptions, both in the red zone. In the first half, the only things keeping Lawrence from running away with the game were those interceptions and some penalties.
A scary moment came after the Lions scored a touchdown on their first drive. Strauss threw the ball away on the SM West's two-yard line. Two plays later, the Vikings' Ricco Hopkins ran 85 yards for a touchdown. The Vikings botched the extra point.
"They punched us in the mouth, and I wanted to see what kind of character we had," Wedd said.
Lawrence followed with a four-play, 80-yard touchdown drive and kept SM West at bay from then on.
After halftime, the lights on the west side of the stadium went out, and the game was delayed about 45 minutes. The Lions came back out and continued to dominate.
"It didn't do anything to us at all," Strauss said. "We stayed focused and knew what we had to do in the second half."
Jackson and Strauss praised their offensive line led by senior lineman Joe Odrowski, Kharon Brown, Sean Thomas, Brady Murrish and Wyatt Woods. When passing, Strauss remained untouched and Jackson had gaping holes everywhere he turned. The defense was superb as well, led by Jake Vinoverski's constant disruption behind the line of scrimmage.
If you take away the 85-yard touchdown by the Vikings, their rushing and passing totals were meager at best. Viking quarterback Armani Williams completed just three passes for 45 yards, resulting in a lot of punts. It allowed LHS to control the time of possession.
In their last two games against the Vikings, Lawrence surrendered a total of 86 points. Different story on Friday night.
"They've really grown up and it's fun to watch," Wedd said.
Copyright 2018 The Lawrence Journal-World. All rights reserved. This material may not be published, broadcast, rewritten or redistributed. We strive to uphold our values for every story published.