Photo Gallery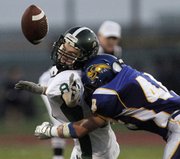 Free State football vs. Olathe South
Game statistics
O-South 35, Free State 14
FS OS
First downs 19 21
Rushes-yards 35-193 49-320
Passing yards 142 74
Total Offense 335 394
Return Yards 48 58
Fumbles-lost 2-1 1-0
Penalties-yards 3-40 6-40
Score by Quarters
Free State 7 0 0 7 — 14
Olathe South 14 0 14 7 — 35
Individual Statistics
Rushing
Free State: Joe Dineen 7-76, Kyle McFarland 12-55, Shawn Knighton 13-48, Stan Skwarlo 1-7, T.J. Cobbs 1-5, Demarko Bobo 1-2.
Olathe South: Jordan Ward 16-148, TD, Teddy Colbert 7-95, TD, Matt Elliott 7-38, Russell White 10-32, TD, Fritz Wilbur 4-12, Frankie Seurer 4-(-1), Team 1-(-4).
Passing
Free State: McFarland 6-11-82, TD; Dineen 5-7-60, TD, INT.
Olathe South: Seurer 3-8-74.
Receiving
Free State: Tye Hughes 4-55, 2 TD, Ryan Patterson 2-51, Calloway Schmidt 2-17, Shawn Knighton 1-7, T.J. Cobbs 1-6, Blake Winslow 1-6.
Olathe South: Teddy Colbert 1-55, Drew Johnson 1-10, Chris King 1-7.
How They Scored:
First Quarter
7:16 — Tye Hughes 20 pass from Kyle McFarland. Kale Joyce kick. (Free State 7, Olathe South 0.)
4:18 —Jordan Ward 19 run. Jared Douglas kick. (Free State 7, Olathe South 7.)
3:35 —Scott Gourley 15 interception return. Douglas kick. (Olathe South 14, Free State 7.)
Third Quarter
11:45 — Ward 66 run. Douglas kick. (Olathe South 21, Free State 7.)
2:25 —Teddy Colbert 3 run. Douglas kick. (Olathe South 28, Free State 7.)
Fourth Quarter
4:27 —Russell White 1 run. Douglas kick. (Olathe South 35, Free State 7.)
1:39 —Hughes 9 pass from Joe Dineen. Antonio Schnoneich kick. (Olathe South 35, Free State 14.)
Olathe — Free State High football coach Bob Lisher couldn't fault his team's effort in its season-opener Friday night.
The Firebirds' mistakes, though, were the reason they couldn't hang close in a 35-14 loss to Olathe South at ODAC.
"We have a bunch of guys on the field that are playing very hard," Lisher said. "But you've got to combine effort with making plays, and we didn't make enough of them."
One of the biggest game-changers came after halftime, when Free State trailed just 14-7.
On Olathe South's first play from scrimmage in the second half, South running back Jordan Ward broke a tackle at the line of scrimmage, then took off 66 yards down the right sideline for a touchdown.
"We hit the guy for no gain, and he bounces off of us. Just things like that," Lisher said. "We expect our guys to do that. I don't care if they're young. They've been coached now hard. They've been coached three weeks. They've got to make those plays."
Free State actually led first after an impressive opening drive.
Starting quarterback Kyle McFarland led the Firebirds 80 yards on 11 plays, capping it with a 20-yard touchdown pass to Tye Hughes.
"We were putting it to them pretty hard," Hughes said. "After that, we started breaking down a little bit and not really remembering some of our routes and some of our plays — stuff we need to work on in practice."
Olathe South answered with a touchdown on its first drive before another Free State miscue proved costly.
Quarterback Joe Dineen's first pass in the first quarter was deflected at the line of scrimmage and intercepted by South's Scott Gourley, who returned it 15 yards for a touchdown.
The Firebirds still trailed by just one score at halftime, thanks to a last-second, goal-line stand.
Following a 78-yard drive, South had the ball on the Free State 2-yard line with 14 seconds left in the half and no timeouts.
South quarterback Frankie Seurer Jr. fumbled the snap under center, though, and after diving on the ball, South couldn't get another play off.
Ward's run in the second half, though, gave the Falcons the momentum back quickly.
"The second half, they just started running up the middle on us and took it to us pretty bad, actually," McFarland said.
Trailing 21-7, Free State also caught a bad break on an Olathe South punt.
On a rugby-style attempt, Ward shanked a 13-yard punt out of bounds, which would have given Free State the ball at the South 36.
Instead, the Firebirds were whistled for an unnecessary roughness penalty on the punter — even though a roughing the punter penalty cannot be assessed on a rugby-style attempt.
South took advantage, scoring a touchdown on the extended possession to extend its lead.
Lisher was pleased with his quarterbacks in their debut, as McFarland completed 6 of 11 passes for 82 yards with a touchdown, while adding 12 carries for 55 yards.
Dineen, meanwhile, recovered well after the interception, finishing 5 of 7 for 60 yards with seven carries for 76 yards.
"I tried to get them out there long enough each time to get into a rhythm, rather than just go three or four plays or go every series," Lisher said. "I thought both of them played well, which I knew they would."
Hughes had both Free State touchdowns: a 20-yard reception in the first quarter and a 9-yard reception in the fourth quarter.
Ward paced Olathe South with 16 carries for 148 yards and two scores.
The two teams weren't separated by too much statistically. Olathe South outgained Free State, 394-335, while earning just two more first downs (21-19).
"As we eliminate mistakes, run the right routes, don't drop the passes, get in the right position defensively, I think we have a chance to be a pretty good team," Lisher said. "It's a growing process, and we've got a lot of growing to do."
Copyright 2018 The Lawrence Journal-World. All rights reserved. This material may not be published, broadcast, rewritten or redistributed. We strive to uphold our values for every story published.