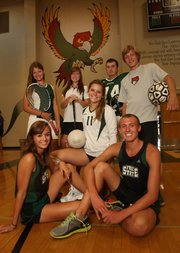 The Minnesota Vikings selected Christian Ballard with the ninth pick of the fourth round on the final day of April. The Boston Red Sox used a seventh-round selection on June 7 on left-hander Cody Kukuk, who signed an $800,000 contract 10 weeks later. Earlier this month, Brady Morningstar signed a contract to play professional basketball in Greece.
All three graduated from Free State High, which has had plenty to take pride in on the athletic front recently.
As at any high school, superstar talent runs in cycles. The Free State senior class is a small one, and although plenty of competitive winners are part of it, it's not loaded with as many exceptional athletes as in some years, particularly in the sports played so skillfully by Ballard, Morningstar and Kukuk.
A look at the eight fall sports teams Free State fields:
Boys cross country
Defending Class 6A state champion Jacob Morgan of Washburn Rural is back to defend his title, but that won't discourage driven senior Kain Anderson from trying to wrest it away from him. Anderson earned a 10th-place medal last season in the state meet at Rim Rock, finishing 51 seconds behind Morgan.
"I think Kain has a chance to finish in the top five, maybe even compete for the very top spot, although the defending state champion is a fantastic runner," Firebirds coach Steve Heffernan said. "Kain will have to improve to compete for the top spot."
Seniors Dylan Aul, Phillip Bradshaw and Kamp Wiebe and junior Fletcher Koch also give Heffernan confidence the 'Birds will qualify to compete in the state meet as they did last year.
Girls cross country
Senior Lynn Robinson is coming off "a much better summer than she's ever had before, and she was 14th at state last year," Heffernan said. "I think Lynn has a good chance to be in the top five," Heffernan said.
Free State's coach expressed enthusiasm about a pair of sophomores, speedy distance runner Bailey Sullivan and Olivia Loney. Heffernan also will be counting on contributions from senior Lauren Wethington and sophomores Molly McCord and Rosemary Newsome.
Football
Coach Bob Lisher's high-octane offense always seems to have a talented dual-threat trigger man, and this year is no exception. In fact, the Firebirds have two quarterbacks who will play a lot: junior Kyle McFarland and sophomore Joe Dineen. Senior running back Shawn Knighton also has the speed to make things happen.
But compared to most years, Lisher's roster is thin in terms of depth and in terms of bulk at the line of scrimmage. Preventing scores will be more of a problem than scoring because of the lack of big-bodied experience in the front seven.
"We'll be rotating in some personnel groupings just to try to keep guys fresh," Lisher said.
It's a sound strategy for a team that must rely more on quickness than strength.
McFarland and Dineen will be on the field together on offense.
"When one's at quarterback, the other will probably be out there at receiver," Lisher said.
They'll both look to complete passes to senior receiver Calloway Schmidt, a two-way starter who also plays outside linebacker.
Tye Hughes (H-back/outside linebacker), Adam Joice (tight end/linebacker), Knighton (running back/cornerback), Cody Stanclift (lineman) and McFarland (quarterback/cornerback) also play often on both sides of the ball.
Girls Golf
Senior Madison Brumley is looking to add length to a game that was good enough a year ago for her to qualify for the state tournament. Other seniors on the 14-girl roster: Rachel Harkin, Elizabeth Hazlett, Nicole Humphrey, Jordan McColm and Hannah Whipple.
The Free State Invitational will take place Oct. 3 at Lawrence Country Club. If all the coaches in the area dedicate themselves to stressing pace-of-play, the tournament won't have to stretch from sun-up to sun-down.
"We stress it all the time because it is an issue," coach Craig Hershiser said. "As coaches around the league, we try to emphasize: Minimize practice swings, pick your line, pick your club, one practice swing, make your shot, walk quickly to your golf ball. Some days pace of play is pretty good. Some days it's not."
Gymnastics
The two Lawrence public high schools practice together every day and work for the same coach. Both schools were on the verge of having to cancel gymnastics this season until Danielle Hayes rode to the rescue and took the job vacated by Kathy Johnson.
"I had heard about the job being open, and when I found out they were thinking about canceling it, that's when I decided I needed to step in and help out," Hayes said.
Hayes competed in gymnastics for Hutchinson High and was runner-up at the state meet.
"I don't know what cost me," Hayes said. "It could have been a pointed toe or a wobble off the beam or something."
Coming that close to first helps drive home the point to the new coach that attention to detail is what gymnastics is all about. A paraprofessional at Broken Arrow Elementary, Hayes competed as a pole vaulter at Kansas University, from which she graduated in 2010. After graduating, she worked at Lawrence Gymastic Academy.
So far, freshman Carrie Howland has stood out to Hayes as a talented, dedicated gymnast.
Soccer
Second-year head coach Kelly Barah expressed confidence the Firebirds can compensate for whatever they might lack in star power with superior conditioning and teamwork.
"I think we have more of a collective unit than that one special guy," Barah said, meaning Diego Gonzalez, now at Western Illinois. "Last year people also thought we had that one special guy, but when he went down, we still ended up doing all right, so I think the collective nature of it is more important to us."
Barah mentioned Zach Thompson and Hunter Peirce as players who have the potential to develop into prolific goal scorers and said of junior Luke Lesslie, "He's got it in him to really challenge himself to be one of the best in the state."
Girls tennis
Talented, driven, improving all the time, a brilliant student, and just a sophomore. In short, Alexis Czapinski is a coach's dream.
"Alexis is fabulous," coach Oather Strawderman said. "She plays tennis year-round, she's taking lessons every week, and she's been dedicated to getting a college scholarship for a long time."
Strawderman also speaks highly of the depth behind Czapinski. Junior Emily Sadosky returns as a singles player. Seniors Caitlyn Tilden and Guin Toalson make a strong doubles team, as do freshman Megan McReynolds and sophomore Alita Joseph. Others, including sophomore Sonia Schoneich, have a chance to perform their way up the ladder.
Free State will be the host school for the regionals, but will use the superior tennis courts at Lawrence High as the venue.
Volleyball
Bad news for the Firebirds: Meaghan Holmes has exhausted her high school eligibility and is playing for Evansville University. Good news: Her sister, Shelby Holmes, is just a junior.
"Shelby's a stud," coach Nancy Hopkins said of the junior outside hitter. "She's a powerhouse. She has colleges looking at her and has for a while."
The Firebirds might not have quite the size as in recent years, but Hopkins is bullish on her team.
"We're going to be better defensively, I think, than we have been since the school opened," Hopkins said. "I like our quickness."
The coach cited three liberos/defensive specialists as key players: Senior Sam Landgrebe and juniors Kylie Dever and Logan Hassig all play a big part in the coach's confidence in her team's ability to stand out defensively.
Junior middle blockers Kailee Dudley and Molly Ryan don't rank among the tallest at their position, but compensate with athleticism, Hopkins said. Sophomore outside hitter Grace Miller showed great strides during the course of last season as a freshman playing for the varsity.
Seniors Mariah Dickson, Brie Mingus and junior Katy Davis bring varsity experience, and junior Ashley Powers stood out in junior varsity play.
Copyright 2018 The Lawrence Journal-World. All rights reserved. This material may not be published, broadcast, rewritten or redistributed. We strive to uphold our values for every story published.