Photo Gallery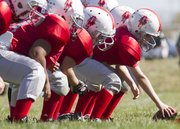 Lexi Miller, fourth-grade football player
Lexi Miller isn't intimidated by playing football with boys. She encourages other girls to try it out.
Sharp, inquisitive, fun, imaginative, enthusiastic, an all-around good kid: Those are just a few of the words used to describe Lexi Miller from those who interact with her on a daily basis.
Lexi, an academically gifted fourth-grader at Schwegler School, divides her time between excelling in the classroom and on the grassy fields each Sunday. Lexi is passionate about participating in Lawrence Youth Football, a sports program dominated by boys. Lexi is the daughter of Janette Miller and sister of Nick Miller, a student at South Middle School.
Lexi and I sat down recently after her day of schooling to discuss her enthusiasm for what most might consider a rough and aggressive sport, football, and her other love, school.
Adrienne Paranjothi: Lexi, which do you want to chat about first, school or football?
Lexi: Most definitely football!
AP: Lexi, do you remember your first sporting activity?
LM: When I was first living in Lawrence, I didn't have many friends that lived close by my house. My mom found an ad in the paper about "Coyote Wrestling." She still has the ad hanging up in the house. I thought, why not go meet some friends? I met a girl who was older than me and we would run around together at practice. My favorite trophy is from wrestling in a girls-only tournament, "Tournament of Champions." I won first place in that two years ago.
AP: Are you still wrestling?
LM: No, not at this time.
AP: What motivated you to start playing football?
LM: I just like football. I used to play with my cousin, who is older. He got older and rougher, and I just liked tackling and being rough.
AP: If there was an all-girls football team in Lawrence, would you participate?
LM: No, because when you play with boys you learn to be tougher and learn to be the best. I feel there is more competition with boys. I like rough sports. But with basketball it doesn't really matter to me if I play on a girls' team.
AP: Have you dealt with negative comments from your own team members or opposing players? How did you respond?
LM: Just maybe a few times. On my team at first I heard "Whoa, it's a girl!" But I said right back, "Don't worry, you'll thank me later for being on your team." One time another player said, "Oh, it's a girl. This is going to be easy." I take offense to that comment about girls.
AP: Share your memories from the first time you put on your Red Raiders uniform and took the field for your first game.
LM: Oh, I was nervous and excited, but after that just really excited and pumped!
AP: Do you have any pregame rituals or superstitions?
LM: When I get up, I get ready and tell myself we are going to win and to do my best. I like a breakfast burrito from McDonald's before a game.
AP: What is one of your favorite moments from a football game and what do you like best about each game you play in?
LM: Probably my first game. I had a sack and thought, "Wow, this is really fun!" Tackling is fun. You can let out your aggression. Football is a sport to let out your aggression, and if coaches are there to help and keep you safe, why not?
AP: Lexi, for you what is the hardest part of playing football?
LM: I'm tough. There is no hard part for me. Sure, the first hit can be hard, but you have pads and you just get used to it.
AP: Share your advice for girls interested in playing any male-dominated sport, and also to their parents who might have hesitations about their daughter participating.
LM: If girls say they want to play, then let them play. Adults should let their kid play. In football they have on pads and helmets. At practice it is not as rough and coaches are there to keep things safe. You don't have to be good, just show up at practice and try to get better.
AP: How do you manage studies and practice time?
LM: I go home from school, play outside for about 30 minutes and then come back in to do homework. If I don't have homework, then I just play outside, eat, get ready for practice and go.
AP: At school, your favorite subjects or activities to participate in are?
LM: I really enjoy math, science and writing stories. My friend and I are making up a story right now about a talking monkey named Jimbo who works at McDonald's and lives in the crown of the Statue of Liberty.
AP: What book or book series would you recommend to other kids?
LM: "Lunch Money" by Andrew Clements is a really good book. The whole "Diary of a Wimpy Kid" series is great, too.
AP: Besides football and school, do you have other interests or participate in other activities? What do you do for fun?
LM: Sometimes I go with my aunt and fix food and clean up for the homeless people that come into The Salvation Army. I find it fun to play dominoes with the guest. When I am older, I want to volunteer at a pet store. I love animals! Also, on Wednesdays I really like going to Strong Girls.
AP: Strong Girls? Tell me about this.
LM: On Wednesday I ride a bus to KU. My leader is Kelsi. We do sports or other activities. We get to have fun. I recommend Strong Girls for all girls. It makes you feel good about yourself. Just a great place for girls to have girl time and hang out.
AP: Any ideas or dreams for your future in school or athletics?
LM: I am going to play basketball. I am going to go to college and play basketball at KU. KU, I know the school by heart.
AP: Do you have an inspirational quote or person that motivates you in your daily life?
LM: "Eat it or wear it!"
AP: Where did you learn this?
LM: From the book "Tales of a Fourth Grade Nothing." I just like to say it at random times.
AP: Again, do you have a person who inspires you?
LM: Danielle McCray. She is the best point guard and three-point shooter.
AP: Lexi, what three words would you use to describe you?
LM: Awesome, fast and athletic.
Copyright 2018 The Lawrence Journal-World. All rights reserved. This material may not be published, broadcast, rewritten or redistributed. We strive to uphold our values for every story published.