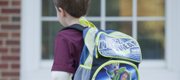 Subscribe to the email edition of First Bell and we'll deliver you the latest local education news and notes every weekday at noon.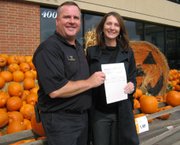 Students, staffers, parents and other supporters of Deerfield School documented spending of $225,061.66 at Hy-Vee grocery stores in Lawrence during the previous school year, enough to ring up a $1,275.35 donation from Hy-Vee for school use.
The donation was included in a $10,000 check received this month by the Lawrence Schools Foundation, through Hy-Vee's annual Dollars for Scholars Program.
Shoppers save receipts documenting purchases at either of Hy-Vee's two Lawrence locations, and then turn in receipts to one of 18 participating schools in town. Schools then turn in their collected receipts at the end of the year.
For every $150 spent, Hy-Vee donates 85 cents to each participating school — based on each school's total collected — plus another 15 cents to the foundation.
Deerfield had the largest collections in the Lawrence school district during the 2010-11 school year. The foundation received $1,481.
•••
Lawrence Mayor Aron Cromwell is scheduled to proclaim Nov. 8 to be "Lights On Afterschool" day, continuing a national celebration of afterschool programs.
The Boys & Girls Club of Lawrence will conduct a local celebration at 6:30 p.m. Nov. 8 at Liberty Memorial Central Middle School, 1400 Mass.
Organizers say the event will include performances by club members, testimonials regarding the program and its importance, and plenty of family entertainment.
Cromwell is scheduled to read and sign the proclamation as part of the Lawrence City Commission's regular meeting, set for 6:35 p.m. Tuesday at City Hall, Sixth and Massachusetts streets.
The national celebration is organized through the Afterschool Alliance.
Copyright 2018 The Lawrence Journal-World. All rights reserved. This material may not be published, broadcast, rewritten or redistributed. We strive to uphold our values for every story published.