Photo Gallery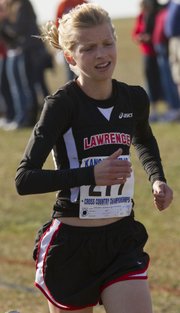 2011 6A state cross country
Sometimes, even a happy ending can be difficult.
The finality of a high school cross country career hit Free State senior Lynn Robinson pretty hard Saturday at Rim Rock Farm.
As teammates and opponents alike shared congratulations and posed for photos nearby, Robinson just needed some time to herself for reflection.
She sat alone, off to the side, for a few minutes. Though she had just finished seventh at the Class 6A state meet, she didn't exactly feel like throwing a party.
Eventually, she re-joined her FSHS teammates, who teamed with Robinson for a ninth-place finish in the team standings. The senior said she had to isolate herself to soak it all in.
"I just really wanted to think about how I raced," Robinson said after running the 4K in 15:28. "I felt like I raced as hard as I could, which was all I could really do. I was kind of disappointed in my place... but the girls left it all out there and that was our goal."
Finishing ninth out of 12 teams might not sound fantastic, but Free State coach Steve Heffernan said Robinson, Molly McCord (47th), Rosemary Newsome (50th), Bailey Sullivan (59th), Lauren Wethington (70th), Ruthie Ozonoff (85th) and Olivia Loney (87th) helped FSHS improve upon recent showings.
"We were actually faster than we were two weeks ago at league," the coach pointed out.
The Firebirds, Heffernan added, also were closer to Sunflower League foe Olathe East, which finished third at state, behind runner-up Shawnee Mission West and champion SM Northwest.
"There just happened to be a chunk of teams right in between us," he said of the gap between Free State and ONHS. "We competed well at a state championship, and that's all you can ask for."
Lawrence High wasn't in the running for team points, with just Grace Morgan and Michala Ruder competing at state.
Morgan, a junior, said running with just one other teammate was different.
"It's usually like a team sport and then all of a sudden half your team's not there," she said.
Despite the change, Morgan shaved 15 seconds off her 2010 state time and placed 36th. Ruder, a senior, finished 62nd.
Not surprisingly, Morgan said the state championship was more fast-paced than a typical meet.
"It's a lot more intense than usual," she said. "There's just a lot more people that are being aggressive.
"It's a different race. I had to step it up."
That's the nature of the beast at state. Robinson said she actually prefers that, though. She was part of a pack of runners vying for top-10 spots once champion Alli Cash, Shawnee Mission West, runner-up Alaina Schroeder, Manhattan, and third-place finisher Amber Eichkorn, Wichita North, separated themselves from the herd.
In such a competitive situation, Robinson said, she actually felt like she and the runners around her were teammates gunning for the same goal.
"I think it's easier, because we can all run together in a group," she said. "And I like that a lot better than trying to run a race by myself."
On that note, Robinson also was pleased to share the state stage with McCord, Newsome, Sullivan, Wethington, Ozonoff and Loney after being Free State's only representative in 2010, when she was 14th at state.
"I hated it. I hated it so much," Robinson said of running alone. "I was so happy that the whole team qualified this year. It makes it so much more fun."
It gave her some incentive, too.
"The goal was for our team to compete well, so really I just wanted to place as high as I could so our team could do that," Robinson said.
Copyright 2018 The Lawrence Journal-World. All rights reserved. This material may not be published, broadcast, rewritten or redistributed. We strive to uphold our values for every story published.