Photo Gallery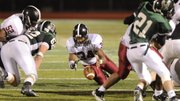 LHS football vs. Free State
With an injury-plagued Lawrence High football team coming across town Friday to Free State, the Firebirds were licking their collective chops and feeling like a win, a district championship and a trip to the playoffs all would be theirs by the end of the night.
It turned out those premature inklings, though, could not have been further from the truth.
The Lions clobbered FSHS with a harsh dose of reality, 20-0, which knocked their rivals out of playoff contention and ended the Free State season.
Firebirds in disbelief looked skyward, bleary-eyed, as they left FSHS Stadium.
Senior wide receiver Ryan Patterson said his team didn't match Lawrence in a basic facet of the game.
"They came out here ready to play. We weren't," Patterson said after catching three of his team's four pass completions on an ugly night for the offense. "That's really the end of the discussion about the whole situation."
The 5-foot-9, 155-pound wideout said the Firebirds (6-3 overall, 2-1 district) cost themselves a win and a district title by overlooking their rivals, who were without their top three quarterbacks, especially first-stringer Brad Strauss. Patterson said because Strauss was out, too many FSHS players thought "we would come out here and just run them off the field."
Instead, they got the ball run down their throats, courtesy of Lawrence junior Tyrone Jenkins, a running back in quarterback's clothing for the shorthanded Lions (6-3, 2-1).
In what amounted to a night full of wildcat formations for LHS, Jenkins carried the ball a whopping 37 times for 122 yards. The fill-in QB ran for a touchdown and even found teammate Erick Mayo wide-open for a 68-yard passing TD that put Lawrence ahead, 17-0, with 5:19 left in the first half.
Free State coach Bob Lisher said a breakdown in coverage allowed Jenkins to hit Mayo down the right sideline.
"It was huge," Lisher said of the play. "We were in simple cover three. We were supposed to have a guy in that deep third, and I don't know where he went. He wasn't there. And they exploited it and made the play."
In the meantime, Free State's offense was sputtering. With junior quarterback Kyle McFarland constantly getting hit, and often taken down, in the backfield, the Firebirds managed just eight yards from scrimmage in the first half. They earned just one first down and one complete pass. McFarland threw six incompletions, one of which was a Mayo interception.
Things didn't improve in the second half, either. McFarland ran the ball three straight times on the first FSHS series of the second half, a three-and-out.
After the Free State defense forced a punt, McFarland was brought down for a loss on three straight plays and lost a fumble on the last of those.
At that point, with McFarland looking nothing like himself, Lisher pulled the junior who had led FSHS to six wins in the previous seven weeks for sophomore Joe Dineen.
The coach said McFarland had twisted a leg (Lisher wasn't sure which) earlier in the game, and the result was a less-than-healthy quarterback.
"He was trying to play through some pain. Sometimes you've got to switch things up," Lisher said after turning to Dineen in the final minute of the third quarter.
Lisher said he didn't want to take McFarland out, but he had little choice.
"He wouldn't say he was hurt, but you could tell he was limping. You could tell he was struggling," Lisher said. "We had to try something else."
Things weren't much easier for Dineen, especially with LHS up 17 points. Though he was able to complete three passes and pick up a team-best 29 rushing yards on a woeful night for the home team, the Firebirds couldn't mount anything resembling a comeback.
Even though FSHS could have won a district championship with a win, and instead had its season cut short by its rival, Lisher said he wasn't shocked by the outcome.
"Lawrence High's a great football team. You've got to give them credit," Lisher said. "They came out and executed very, very well on both sides of the football."
It was a tough night for all involved in the Free State locker room, senior running back Shawn Knighton said.
"Everybody's just emotional right now," he said. "It's a big loss for us. We thought we were gonna come out ready to go. I guess we just wasn't focused and ready to play."
Patterson agreed and couldn't get past the notion the Firebirds thought all they had to do was show up and win.
"They thought it was gonna be a breeze, which was not happening at all," he said.
Lisher, though disappointed, said Lawrence deserved the victory, its first over FSHS since 2005.
"Nobody wants the season to end, obviously. Hell, we're not happy," the coach said. "They made the plays and we didn't make them."
Box score
FSHS LHS
Rushes-yards 22-20 47-158
Passing yards 41 94
Total offense 61 252
Return yards 21 10
Fumbles-lost 2-1 3-1
Penalties-yards 3-20 6-40
Score by quarters
Lawrence 7 10 0 3 — 20
Free State 0 0 0 0 — 0
Individual statistics
Rushing
Free State: Joe Dineen 5-29, Shawn Knighton 4-7, Stan Skwarlo 1-4, Kyle McFarland 12-minus-20.
Lawrence: Tyrone Jenkins 37-122 TD, Jordan Brown 4-7, Erick Mayo 2-9, Isaiah Ross 4-20.
Passing
Free State: Joe Dineen 3-10-29 interception, Kyle McFarland 1-7-12 interception.
Lawrence: Tyrone Jenkins 3-4-94 TD.
Receiving
Free State: Ryan Patterson 3-36, Tye Hughes 1-5.
Lawrence: Erick Mayo 1-68 TD, Garrett Cleavinger 1-20, Anthony Buffalomeat 1-6.
How they scored
First quarter
4:58 — Tyrone Jenkins 3 run. Anthony Rosen kick. (LHS 7, FSHS 0.)
Second quarter
7:52 — Anthony Rosen 30 field goal. (LHS 10, FSHS 0.)
5:19 — Erick Mayo 68 pass from Jenkins. Rosen kick. (LHS 17, FSHS 0.)
Fourth quarter
2:24 — Rosen 29 field goal. (LHS 20, FSHS 0.)
Copyright 2018 The Lawrence Journal-World. All rights reserved. This material may not be published, broadcast, rewritten or redistributed. We strive to uphold our values for every story published.