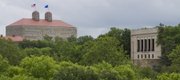 Subscribe to the email edition of Heard on the Hill and we'll deliver you the latest KU news and notes every weekday at noon.
Your daily dose of news, notes and links from around Kansas University.
• KU's Gertrude Sellards Pearson hall is closed for renovations for the 2011-12 school year.
But it'll be back open in 2012, and I recently stumbled on these architectural renderings that help show what the place will look like when it does.
New features, according to KU Housing, include a new dining room, a seating area open for 24/7 studying and a late-night dining option.
As we've reported, KU sought $13.1 million in bonds from the Board of Regents (to be repaid from housing revenue) for the project.
The big change, of course, is that the all-women's hall will become co-educational when it reopens. Corbin Hall will be the only KU residence hall after the switch that won't be co-ed — it will remain for women only.
• I asked yesterday about the breakdown of KU's tenured and non-tenure track faculty, and I should have known better.
That's because KU's Office of Institutional Research and Planning knows everything (or at least close to it).
Here's a breakdown of a whole bunch of faculty statistics. The Lawrence campus faculty features about 56 percent tenured faculty, 16 percent of faculty in a tenure track position and about 28 percent non-tenure track employees.
The 1,564 faculty members are paired with the 1,038 graduate teaching assistants.
You might notice a significantly higher number of non-tenure track faculty positions at KU Medical Center on the chart. I suspect that's because all physicians who work at KU Hospital are required to be members of the KU Medical Center faculty.
• The KU School of Music will sponsor a "cowboys vs. aliens" themed Halloween concert and costume contest on Friday at the Lied Center.
The costume contest starts at 6:30 p.m. and the symphony orchestra starts at 7:30 p.m. Tickets are $7 for general admission, and $5 for students and seniors.
• Your random fact of the day, courtesy of KU Info's Twitter feed from earlier this month: Until the early 1940s, only unmarried women were admitted to KU's nursing school, and had to remain single until they completed the program.
• If you'd like to send me a tip for Heard on the Hill, go ahead and send me an email at ahyland@ljworld.com. I'll be thinking of what to wear this year for Halloween. I'm thinking about trying to find a way dress up like Fraser Hall…
Copyright 2018 The Lawrence Journal-World. All rights reserved. This material may not be published, broadcast, rewritten or redistributed. We strive to uphold our values for every story published.