If Kansas University is not the Fountain of Youth, it is at least an age-defying tonic that helps keep Douglas County young.
In fact, the U.S. Census Bureau predicts: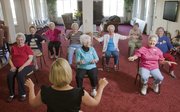 • That between 2000 and 2030, the number of folks 65 and older in Douglas County will have increased by 39 percent.
• Nationally, that older age group will have doubled during the same 30-year period.
So, it appears Lawrence will remain a mecca for the young.
But a local task force sees reason to change that, at least to some degree.
Armed with studies forecasting the benefits of attracting people with spare cash and extra time to a community, the Douglas County Retiree Attraction Task Force is on a mission to make Lawrence a retirement destination. If the attempt to lure more retirees to Lawrence is successful, that older population will have some impact on several aspects of life in Lawrence by creating greater demand for medical jobs, putting more stress on social services and even determining public school funding at the ballot box.
Here is a closer look at some of the issues Lawrence will face.
Medical jobs
In the next five years, at least 17 six-figure jobs will be opening up in Lawrence. The city will need 10 new internal medicine physicians and seven general practitioners by 2016, according to a study by Lawrence Memorial Hospital.
Gene Meyer, the hospital's CEO, said a slew of medical jobs will be needed to keep up with demand.
"There will be a wide range, from primary care, quality health care from the hospital and home services," Meyer said.
Many of those jobs, like nursing, come with good salaries and benefits. But not all will be high-paying.
Home health aides — a profession expected to grow by 50 percent from 2008 to 2018 — make an average of $10.44 an hour in Lawrence. Nursing aides, who may work in hospitals or nursing homes, make an average of $11.07 per hour in Lawrence, according to the Bureau of Labor Statistics.
Those types of jobs are unlikely to provide top-notch benefits. One in four nursing home workers have no health benefits, and nursing homes have been lobbying Congress to exempt them from a provision under the new health care law that would force them to provide insurance.
Former Kansas Gov. Mark Parkinson, now a top lobbyist for the nursing home industry, was featured prominently in a May New York Times article, in which he said many nursing homes couldn't afford to provide insurance to employees.
Social services
Douglas County's 2011 budget allocated $521,000 for Douglas County Senior Services Inc., which subsidizes meals, transportation and other services for some area seniors. That's about 9 percent of all money allocated to area agencies.
But even as government reports predict ballooning budgets for senior services nationwide, those who work with aging populations stress that making generalizations about people based on age goes only so far.
"The important thing to realize is that need for services cannot necessarily be predicted chronologically," said David. B Oliver, assistant director of the University of Missouri Interdisciplinary Center on Aging in Columbia, Mo.
Oliver would know. Columbia, Mo., made a push of its own to bring retirees to town in the 1990s, and organizers say it succeeded in bringing about 2,600 people.
Oliver noted that a 20-year-old may be struck by osteoporosis while a 90-year-old might get around just fine with the help of a cane and 10 pills a day.
"That 90-year-old would be what I call 'functionally healthy,'" Oliver said.
At one time or another, even healthy retirees with money will probably use services of some kind, said Amy Byergo, director of the University of Missouri Adult Day Connection in Columbia.
"Even if you are a wealthy and active retiree right now, chances are you are not going to be wealthy and active until your last day," Byergo said.
In the future, Douglas County may want to consider offering services to seniors on a sliding scale, said Rebecca Holmes, Project Lively Coordinator at Project Lawrence-Douglas County Health Department.
In her job, she sees middle-income seniors who could use a little help. But they make too much money.
Instead of an "all or none" package, it might work better to have those seniors select services a la carte and pay for what they use, Holmes said.
Public schools
Among education policy wonks, there is a debate whether more senior citizens in a school district is good or bad for its schools.
A 2004 study found seniors who moved to a new area were significantly less supportive of its schools than those who had lived in a community for years.
But it's hardly a closed case.
Don Laird, president of the Columbia, Mo., Chamber of Commerce, said some senior-dominated precincts were big supporters of Columbia Schools.
In some cities, schools have become hubs for senior activity, which in turn can strengthen support for them.
During the 1980s in Brookline, Mass., seniors took classes after-hours in public school classrooms, and were driven around town in out-of-service school buses. Seniors also built relationships with school children through tutoring and mentoring programs.
At a time when the rest of Massachusetts voted to cut school funding, Brookline seniors, who made up about 20 percent of the population, voted overwhelmingly in favor of its schools.
Susan Esau, executive director of Lawrence Schools Foundation, thinks seniors and strong schools go hand-in-hand.
"Retirees would choose to settle in a town that has a good, stable infrastructure. The public school system is a big part of that," Esau said.
Copyright 2018 The Lawrence Journal-World. All rights reserved. This material may not be published, broadcast, rewritten or redistributed. We strive to uphold our values for every story published.