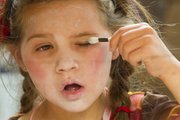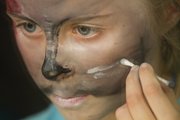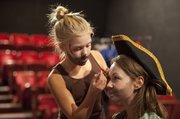 It might not score you a job at cosmetics mothership Sephora, but scaring up the right know-how to do up your kid's face at Halloween really isn't that hard to obtain.
We talked with a handful of makeup specialists — Theatre Lawrence's Hailey Gillespie, Fun and Games' Kyle Billings and Kansas University's Elahe Marjovi and Laurie Winkel — about how parents can pull off a high-quality amateur makeup job this Oct. 31.
Practice. You wouldn't go out in costume without trying it on first, right? Do the same thing with the kids' makeup. Run through the whole routine, check it with the costume and make sure your child is happy with the result. Also, make sure to take photos so that when Oct. 31 comes, you remember exactly how to get it right.
It's also worth noting that you will want to figure out if your child will need to put on his or her costume before makeup, rather than after. If he or she does need to slip into it before being made up, line the collar with paper towels to make sure makeup doesn't get on the costume, Gillespie says.
Don't strip the skin. Wash your child's face before and after makeup trials, but don't use more than just soap and water. Cold cream, astringent and harsh cleaners aren't necessary for their delicate skin. Winkel says to always remember how delicate and sensitive it is. Also keep this in mind if your child wants special effects done with latex, gelatin or silicone. The chemicals may be too harsh for your child. Marjovi says she wouldn't recommend latex for children; allergic reactions to latex can be severe.
Start with a consistent canvas. Gillespie suggests that you cover the child's entire face in a coat of base. For zombies or vampires, that base might be stark white. For a princess or everyday character, that might be a foundation just a shade lighter than your child's skin tone. She suggests covering everything, even the lips, just to create a consistent starting point. Then, go from there.
Billings suggests powder for small children or parents who aren't accustomed to makeup; it's virtually fool-proof and can be done in a light or a heavy manner.
Work big to small. Marjovi always starts with a base first, and then works down to the details. Gillespie agrees, saying she always does the biggest job first and the smallest job last. Generally, that means foundation, blush, then eyes. Penciling in the eyebrows usually comes very last.
Use what nature gave your child. While practicing, it's important to use the natural contours of your child's face, Gillespie adds. Get to know the dips and grooves and bone structure, and see how it all fits together. Your child may look like you, but that doesn't mean his or her face is exactly the same.
Give them something to do. Gillespie suggests letting kids draw on the mirror in front of them with dry-erase marker. That way, their faces stay up and still, they're entertained and the whole process goes much, much faster.
If your children won't stand for the mirror trick and are insistent on doing the makeup themselves, try to convince them that they can do your look after they've sat still for their makeup. That way, they get the chance to try their hand, their makeup still looks good and you get in on the fun.
A few extra pro hints to get a certain look:
For zombies, skeletons and other emaciated creatures: Use a stripe of dark blush under the cheek bone to help hollow out your child's face.
For a princess, fairy and other "pretty characters": Put a rosy blush on the apples of your child's cheeks.
For a scar, use a series of lines: A lighter curved line first, a second line that's darker and a middle line that's nearly black.
If using fake blood, make sure to allow for drying time. If your child wants a "bloody look" but doesn't like the feel of fake blood in trials, lipstick or cream blush could be used.
Copyright 2018 The Lawrence Journal-World. All rights reserved. This material may not be published, broadcast, rewritten or redistributed. We strive to uphold our values for every story published.