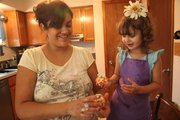 Nancy Myers can't keep her kids out of the kitchen — their hands flutter near the bag of flour, float over the mixing bowl and remain perpetually poised to plop in that extra stick of butter. Myers cooks most family meals at home, and any time she's in the kitchen, her daughters are hovering over the cabinets, eager to join. They want to pour in the sugar, smack the eggs against the cabinets, or sprinkle in the chocolate chips.
Myers' daughters — Emily, 10, and Natalie, 12 — love to be involved in meal prep. And Emily, the youngest, wants to be a chef. She loves to bake: cookies, pastries, lemon currant bars. At the school book sale one year, Emily was prepared to fork over all of her own money in order to buy a cupcake cookbook that featured fun designs. Since she was 5, Emily has been dicing veggies and sprinkling spices into her soups to enhance their flavor.
"They want to be a part of it," Myers says. "You can't not have them involved — unless you do it while they're sleeping. … The girls sneak bites, beg for dough, fight over who gets to do what, add which ingredient. The place is covered in flour or frosting — especially when they were little."
For Myers, enticing her children into the kitchen is easy. But add food coloring, icing and sprinkles? Things get even easier.
One memorable culinary experiment was a raspberry sherbet dish shaped like a watermelon. It was an all-day summer project that the girls took on for a friend's birthday. The watermelon seeds were constructed from pieces of Oreo.
"It took an entire afternoon," Myers says. "It was huge. Way more cake than we could possibly eat. It was also hard as a rock to cut, but everyone at the party loved it and it was fun when you cut into it to see all the layers." 
Never too young
Myers has been overseeing her daughters in the kitchen since they could walk.
"When they were tiny, they used to have to stand on these little chairs, one on each side of me, to reach the counter," Myers says. "One kid invariably was in front of the drawer I needed to get into to get a utensil or measuring spoon and I'd have to pick her up with the chair, move her back, open the drawer, get out the utensil, then move her back into position, and then we'd keep going."
Aniela Kiekel also regularly invites her children into the kitchen: Shasta, 3, and Clayton, 2.
"Every time I make a chocolate cake, (Shasta) helps me. She pours in all the eggs," Kiekel says. "I measure things out and let her pour it in. I think you should always measure it out and tell them exactly what is you want them to do."
One of the Kiekels' favorite things to make together are brightly colored popcorn balls with melted marshmallows: they are easy and delicious.
The easy way to do it is to use two bags of microwave popcorn and one bag of marshmallows, melted. You could also stove-pop the popcorn for a crispier treat. Just like Rice Krispies Treats, it uses a whole stick of butter. Then add food coloring to the concoction. And you don't have to add salt. But you do have to slather your hand with butter every now and then so the popcorn doesn't cling to your fingers. Throughout the process, the kids usually nibble on popcorn as they're wadding it into balls, which is part of the fun, Kiekel says.
Whenever Myers has her girls in the kitchen, she uses it as an opportunity to teach about measurements and chemistry. She injects her lessons into the process subtly, though, so as not to bore the kids.
"It really is great to cook with kids," Myers says. "It's a lot of work and hassle when they are young, but now they are truly able to do a lot. They can pretty much make brownies or cupcakes on their own now.
"But cleanup? Not so much."
Copyright 2018 The Lawrence Journal-World. All rights reserved. This material may not be published, broadcast, rewritten or redistributed. We strive to uphold our values for every story published.