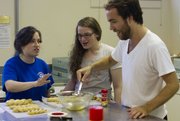 Kansas University Hillel, Concerned Active and Aware Students and the Jubilee Café are teaming up to fight hunger in Lawrence.
On Sunday, they hosted the first Challah for Humanity workshop at the First United Methodist Church, 946 Vt. More than 30 people prepared challah, a traditional Jewish bread that is braided. They sold the bread at the church, and at various greek houses and scholarship halls at KU. The group will donate proceeds to the Lawrence Community Shelter and Just Food.
"We're trying to make it monthly," said Nora Freyman, event coordinator and a KU student.
Dana Wilensky, a KU student from Minneapolis, Minn., helped prepare the challah, pronounced "hallah." After mixing in raisins or chocolate chips, she separated the dough into three rolls and carefully braided them together. Then, she coated it in egg white to give it a shiny finish.
"It's a good way to spend the weekend," she said.
Challah contains sugar and eggs, giving it its yellow tint. Cooper Nickel, a KU student from Linsdborg, said the bread pairs well with honey.
Copyright 2018 The Lawrence Journal-World. All rights reserved. This material may not be published, broadcast, rewritten or redistributed. We strive to uphold our values for every story published.