Olathe — Olathe East volleyball is going to state, and it had to go through both Lawrence teams to get there.
Photo Gallery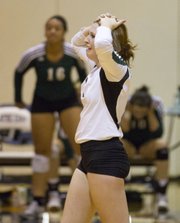 FSHS at sub-state volleyball
In the first round, it was eighth-seed Lawrence High which gave No. 1 O-East a bit of a scare, but lost, 25-23, 26-24. In the sub-state A championship, O-East also ended fourth-seed Free State High's season, 25-16, 25-17.
LHS (12-22) entered the tournament as the bottom seed, but didn't look like it against the top-seeded Hawks. LHS coach Stephanie Magnuson said her team knows how to peak at the right time.
"They played their best volleyball tonight," Magnuson said. "It just didn't go our way."
Senior Kelsey Kilburn said her last game as a Lion was a tough one to bear because the team was so close and playing as well as it could play. But in postseason play, there are no moral victories.
"It if wasn't sub-state, I'd be happy with our performance," Kilburn said.
In the second set, with their season on the line, the Lions were tied 24-24 with the Hawks, but Olathe East scored two consecutive points to end the match. Kilburn said the team never felt the pressure of taking down the top team when it got to that point.
"I believed we would win both of those games all the way up until the ref said it was over," Kilburn said.
The worst part for Magnuson is that she is going to miss coaching her players.
"They're such a good group of kids, and they're so much fun to work with," she said. "I don't want this season to end."
The Lions have had several games this year that have been decided by two points, the difference in each of these games. Even though the season is over, Magnuson wants next year's seniors —Zoe Reed, Alexis Mountain, Brea May, Krista Costa and Monica Howard — to learn from this postseason experience.
"I hope over the summer they figure out what to do with those two points," Magnuson said. "And I think they will."
FSHS (21-15) played No. 5 Olathe North in the first round and came out firing, winning 25-16, 25-21.
Senior Samantha Landgrebe said the loss in the second match against O-East wasn't from a lack of energy.
"We brought that intensity to the second match, and we put up a great fight," she said, holding back tears. "I just wish it wasn't over."
Senior Brie Mingus said the Firebirds were better than they showed, but the Hawks were just too much at times.
"They knew where to hit the ball," Mingus said. "We were there, we just didn't get there quick enough."
The Firebirds had trouble keeping pace in the first set, but adjusted in the second. It was 14-all when an 11-3 run by O-East decided the match. Landgrebe said the Hawks had more focus down the stretch.
"We both had the physical aspect," she said, "but they came with the mental game."
Both Landgrebe and Mingus said the program is in good hands, with several juniors — Katy Davis, Shelby Holmes, Molly Ryan and Logan Hassig, to name a few — looking to step into leading roles next year.
But for right now, especially for the seniors, the ending is bitter, coming one match short of state.
"We're just going to miss volleyball," Mingus said.
Copyright 2018 The Lawrence Journal-World. All rights reserved. This material may not be published, broadcast, rewritten or redistributed. We strive to uphold our values for every story published.