Photo Gallery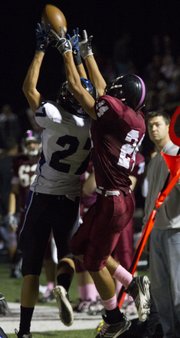 LHS vs. Olathe Northwest
If there ever were any doubt about just how important junior quarterback Brad Strauss is to Lawrence High football, his impact became abundantly clear Friday night.
Strauss went down because of a left ankle injury on the first play of the second quarter in a district game against Olathe Northwest, and the Lions' four-game winning streak was snapped when they failed to reach the end zone in a 21-3 loss to the Ravens.
Lawrence only trailed by seven when Strauss was sacked and didn't get up off the LHS Stadium turf with 11:42 to go in the first half. The 6-foot, 175-pound junior couldn't put any weight on his left ankle and was helped off the field before being carted to the locker room at halftime.
Unfortunately for the Lions (5-3 overall, 1-1 district), the injury marked the second time this week they had lost a QB. Wednesday, coach Dirk Wedd said, junior second-string quarterback Austin Mater-Kimball suffered a knee injury at practice. That meant when Strauss became unavailable, Wedd and the offense had to turn to a third-string signal-caller, junior Drake Hofer.
"We brought in a kid who was a wide receiver," Wedd said of Hofer, who caught two passes in the loss. "We were flying by the seat of our pants."
Even so, when play resumed after Strauss' injury, Hofer helped keep the drive alive on a fake punt. Senior punter Anthony Buffalomeat found Hofer down the right sideline for a 23-yard completion that helped set up Lawrence's only score of the night, a 35-yard field goal by Anthony Rosen.
By the end of the night, Hofer had rushed for 65 yards and thrown for 59 yards, with two interceptions, the last one coming on a desperation heave as time expired in the fourth quarter.
Not bad, Buffalomeat said, for a wide receiver.
"He did the best that he could, and I'm very proud of him," Buffalomeat said.
Wedd said Hofer, who got most of his quarterback experience last year on the sophomore team, took the loss hard, but the coach wasn't at all disappointed in his effort.
"Drake, he just competed really hard and did absolutely great for us," Wedd said.
Most of the Lions' problems came on the defensive side in the first half, when the Ravens (4-4, 1-1) scored all of their points.
ONW made a strong opening statement on its first possession with a 99-yard scoring drive. The next time Northwest touched the ball, the visitors put together a 12-play, 68-yard drive that finished with quarterback Dalton Rook, who threw for 230 yards, finding running back Cody Sestrich in the flat for a seven-yard TD.
Although there was only 1:38 left on the first-half clock when the Ravens began their third possession, they decided to take their chances and put up some more points.
That looked like it might have been the wrong move when Lawrence linebacker DeCorey Pittman sacked Rook on the first play, but after a timeout, the ONW senior QB found the biggest target in the stadium, 6-10 wide receiver Willie Cauley, wide-open behind the LHS secondary for an 88-yard score that Wedd said greatly hurt the Lions' chances.
After that, the coach said he had to challenge his players at halftime.
"There were a lot of people feeling sorry for themselves, because when you lose your horse, it's difficult to overcome," Wedd said of the morose locker room after Strauss' injury, which he said was either a severe sprain or break in the junior's left ankle.
Lawrence wasn't able to score a touchdown in the second half, despite getting the ball inside Northwest's 10-yard line on two occasions.
After the Lions forced a turnover on their first defensive possession of the third quarter, when defensive lineman Kharon Brown recovered a fumble, an ensuing 12-play drive ended on a fourth-and-two incompletion by Hofer on a rollout.
The next time LHS had the ball, a fourth-and-goal run by Tyrone Jenkins from the one-yard line was stymied by ONW.
"We tried to jam it in there and got beat at the line of scrimmage," Wedd said.
Though the coach admitted most of the team's struggles were a result of losing Strauss, he said Friday marked the first time the Lions had taken a significant step backward.
"Our first seven games, we improved every week," he said, "and this is the first time that we've had problems."
Now next Friday's crosstown showdown at Free State (6-2, 2-0), which beat Olathe North on Friday, is even more important, Buffalomeat said.
"It's always hyped," he said, "and it'll be bigger with what's on the line."
Box score
LHS ONW
First downs 19 13
Rushes-yards 44-189 34-114
Passing yards 112 230
Total offense 301 344
Return yards 44 19
Fumbles-lost 2-1 2-1
Penalties-yards 3-30 5-36
Score by quarters
Olathe Northwest 7 14 0 0 — 21
Lawrence 0 3 0 0 — 3
Individual statistics
Rushing
Lawrence: Tyrone Jenkins 18-81, Drake Hofer 18-65, Erick Mayo 5-23, Garrett Cleavinger 1-20, Brad Strauss 2-0.
Olathe Northwest: Connor Middleton 23-109, Cody Sestrich 3-8, Avery Parker 1-7, Alec Smith 2-minus-1, Dalton Rook 5-minus-9.
Passing
Lawrence: Drake Hofer 8-17-59 two intercepted, Brad Strauss 4-6-30, Anthony Buffalomeat 1-1-23.
Olathe Northwest: Dalton Rook 13-18-230 interception, Connor Middleton 0-1-0.
Receiving
Lawrence: Drake Hofer 2-41, Anthony Buffalomeat 3-24, Garrett Cleavinger 2-15, Tyrone Jenkins 1-12, Erick Mayo 3-12, Matt Grom 1-8, Cameron Solko 1-4.
Olathe Northwest: Willie Cauley 6-165, Bryce Grimm 4-46, Corey Kipp 2-14, Cody Sestrich 1-7.
How they scored
First quarter
3:08 — Avery Parker 7 run. Riley Adam kick. (ONW 7, LHS 0.)
Second quarter
9:19 — Anthony Rosen 35 kick. (ONW 7, LHS 3.)
5:22 — Cody Sestrich 7 pass from Dalton Rook. Adam kick. (ONW 14, LHS 3.)
1:02 — Willie Cauley 88 pass from Rook. Adam kick. (ONW 21, LHS 3.)
Copyright 2018 The Lawrence Journal-World. All rights reserved. This material may not be published, broadcast, rewritten or redistributed. We strive to uphold our values for every story published.