Photo Gallery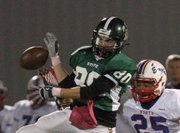 Free State vs. Olathe North
Free State receiver Ryan Patterson had heard all year from assistant coach Max Cordova that he wasn't a good receiver in traffic.
The senior showed otherwise during Free State's game-winning drive Friday, making three critical fourth-quarter catches in the Firebirds' 19-14 football victory over Olathe North at Free State Stadium.
"That's just him trying to make me get better," Patterson said, "and I needed that, because I did it tonight."
Trailing 14-13 with 3:15 remaining, Free State started at its own 20 when quarterback Kyle McFarland and Patterson combined on three improbable conversions to keep the drive going.
Facing a third-and-15 at the Free State 29, McFarland rolled left and stood tall in heavy pressure before lobbing a pass to Patterson for 20 yards.
"(Kyle) did a great job of keeping plays alive and then finding people downfield," Free State coach Bob Lisher said. "They were sending the house at us."
Four plays later, on fourth-and-10, McFarland found Patterson on a comeback route, picking up 17 yards to the Olathe North 34.
Free State went backwards two yards on the next three plays, and following a timeout, the Firebirds once again faced a crucial fourth-and-12.
"Coach called the same play except for the other side," Patterson said, "and everybody looked at me and said, 'Catch the ball.'"
After dropping back, McFarland delivered a strong throw, and Patterson kept his focus as he caught the ball while surrounded by defenders.
"The corner was in front of the ball, but I didn't want to get yelled at, so I came back to the ball," Patterson said. "I don't know if he slipped or what, but I got the ball and he didn't."
Patterson turned upfield for a 21-yard gain, with a face-mask penalty taking it to the Free State seven.
"That's tough, man, to overcome fourth-and-whatever it was twice," Lisher said. "When we needed to make plays, we made them. That's what I'm most proud of."
There was little doubt whom McFarland was going to on the next play.
The junior lobbed a pass over a defender to Patterson, who took into the end zone for the seven-yard TD with 1:37 remaining.
Free State's defense came up with a stop to secure the win, as sophomore linebacker Keith Loneker intercepted a tipped Jordan Bruce pass with 47 seconds remaining.
With the victory, Free State (6-2) nearly assures itself of a spot in the playoffs. The Firebirds improved to 2-0 in district play, with only a home game against Lawrence High remaining.
"It's a big statement, because people, they doubted us all year from the beginning," Free State junior offensive/defensive lineman Cody Stanclift said. "They picked us eighth or ninth in the league, and now we have a chance to win district."
Added Lisher: "It's significant because Olathe North has a pretty good tradition, obviously, but we've got one, too. Our guys like to uphold that tradition. They may not be the biggest or the fastest, but we play with a lot of heart."
Free State's defense held North's Orange Mooney and Treshawn Root to a combined 99 rushing yards on 32 carries. Coming in, the two backs were second and third in the Sunflower League rushing yardage.
The Firebirds also limited receiver Tanner Gentry to a single catch for 13 yards. He entered as the second-leading wideout in the league.
"They have some athletes on that team and a lot of speed on that team," Lisher said, "and our defense stepped up and made great play after play after play."
Bruce was just 6-for-26 passing for 105 yards with an interception.
McFarland carried Free State offensively, completing 21 of 38 passes for 277 yards and two scores.
Patterson, meanwhile, had six catches for 122 yards and two touchdowns.
He said his breakout game had special meaning on Friday, which was Free State's "Think Pink" breast cancer benefit game.
Many Firebirds wore pink shoes and used pink towels.
"My grandma (Dolora Wilson) died of breast cancer three days before Christmas, so this whole thing out here was for her," Patterson said. "I told my auntie I would play my heart out.
"Every touchdown was for my grandma."
Box score
ON FS
First downs 11 19
Rushes-yards 37-92 31-87
Passing yards 105 277
Total Offense 197 364
Return Yards 84 133
Fumbles-lost 1-1 1-1
Penalties-yards 6-50 9-82
Score by Quarters
Olathe North 0 0 7 7 — 14
Free State 0 13 0 6 — 19
Individual Statistics
Rushing
Olathe North: Orange Mooney 14-55 TD, Treshawn Root 18-44, Jordan Bruce 4-0, Team 1-(-7).
Free State: Shawn Knighton 12-61, Kyle McFarland 17-30, TD, Team 2-(-4).
Passing
Olathe North: Jordan Bruce 6-26-105, 1 TD, 1 INT.
Free State: Kyle McFarland 21-38-277, 2 TD, 1 INT.
Receiving
Olathe North: Orange Mooney 3-53, 1 TD, Trey Geiger 2-39, Tanner Gentry 1-13.
Free State: Ryan Patterson 6-122, 2 TD, Tye Hughes 9-90, Shawn Knighton 4-51, Calloway Schmidt 1-8, Sam Hearnen 1-6.
HOW THEY SCORED
Second Quarter
11:34 — Kyle McFarland 1 run. Antonio Schoneich kick. (Free State 7, Olathe North 0.)
1:31 — Ryan Patterson 38 pass from Kyle McFarland. Antonio Schoneich kick blocked. (Free State 13, Olathe North 0.)
Third Quarter
8:34 — Orange Mooney 4 run. Jaime Olivas kick. (Free State 13, Olathe North 7.)
Fourth Quarter
3:15 — Orange Mooney 23 pass from Jordan Bruce. Jaime Olivas kick. (Olathe North 14, Free State 13.)
1:37 — Ryan Patterson 7 pass from Kyle McFarland. McFarland run failed. (Free State 19, Olathe North 14.)
Copyright 2018 The Lawrence Journal-World. All rights reserved. This material may not be published, broadcast, rewritten or redistributed. We strive to uphold our values for every story published.