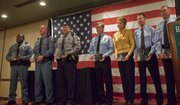 For the 14 firefighters and law enforcement officers who were recognized Tuesday for heroic acts in Douglas County, they all used instincts and relied on their training in very stressful situations.
Hundreds of people gave the honorees ovations during the Lawrence Chamber of Commerce's inaugural Valor Public Safety Awards ceremony at Holiday Inn Lawrence, 200 McDonald Drive, Tuesday afternoon.
Sandy Herd, a retired Lawrence-Douglas County Fire Medical captain, said her crew and a police and sheriff's officer had to work to develop a plan when they helped rescue a boy from the Kansas River in June of 2009.
"The difficult thing for me — it was shallow water, but it was slippery — was to ignore the instinct of just recklessly jumping in, but to have every maneuver or plan thought out instantly — still thought out so that we were effective," Herd said.
They were successful, and the boy recovered from his injuries. The chamber gave awards to Herd and fire medical engineers Leo Leiker Jr., Mark Parker and Troy Gourley. Lawrence police officer Tony Garcia and Douglas County Sheriff's Sgt. Clark Rials and Deputy Dale Flory also received awards for their participation in the rescue.
"We don't expect it. When somebody throws you a pat on the back, it's always a good deal," Rials said. "Hopefully they'll continue it and keep it going."
Chamber officials plan to annually continue the awards ceremony that started this year in partnership with NIC Inc. NIC's CEO Harry Herington, a Lawrence resident, handed out awards to the honorees Tuesday. Retired Kansas Bureau of Investigation Director Larry Welch was the keynote speaker.
The children of the winners are eligible to receive a one-time $1,000 education stipend when they enter community college, technical school or a university. Private donations and proceeds from Tuesday's luncheon and other events fund the scholarships.
The river rescue wasn't the only heroic event highlighted Tuesday:
• Firefighters Scott Seratte, Eric Miller and Todd Dwyer won awards for rescuing one person in March 2010 from a burning residence in the 2400 block of Harper Street.
They conducted an extensive search in heavy smoke before they found a woman conscious in a bedroom doorway, rescuing her and saving her life.
• Lawrence police officer Ronald Ivener early on May 14 was the first responder when a 68-year-old man was receiving CPR. He used an automatic external defibrillator and found a pulse on the man after a second shock. Medics then took the man to the hospital.
• Lawrence officer Myrone Grady, the school resource officer at South Middle School, performed the Heimlich maneuver to save a student who was choking on a sandwich.
"I don't think anybody gets into this job to get awards," said Grady, who recently was named the Kansas school resource officer of the year. "You get in it because you generally care about people and care about the community in which you serve. (The award) shows people out there care."
• Kansas University police officer Robert Blevins helped rescue a male KU student who was distraught and in danger on a high building.
"It's a real honor. It's totally unexpected," Blevins said. "I didn't do anything any other officers in my department wouldn't do, but it's a real honor."
l Douglas County Sheriff's Detective Jay Armbrister saved a man who was injured in a January 2009 rollover crash in subzero temperatures near Eudora. Armbrister said he smelled fuel inside the vehicle and feared it would catch fire. But he crawled inside and helped position the man so a crew could get him out of the vehicle.
"It was just a matter of I just need to go ahead and get this taken care of so I can get out of here," he said. "You just fall back on your senses."
Copyright 2018 The Lawrence Journal-World. All rights reserved. This material may not be published, broadcast, rewritten or redistributed. We strive to uphold our values for every story published.