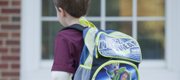 Subscribe to the email edition of First Bell and we'll deliver you the latest local education news and notes every weekday at noon.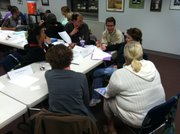 Members of the Central and East Lawrence Elementary School Consolidation Working Group spent plenty of time asking questions regarding the district's transfer policies, the locations of students studying English as a second language, and even the very definition of equity.
But they also spent time pondering the future Monday night, mulling just what they'll be considering as they move toward forwarding recommendations to the Lawrence school board addressing potential consolidation of schools that would shrink a list of six schools to three or four within two to three years.
Among the most key points: If and when the group gets down to deciding which schools should close, and how the effects of fewer schools should be accommodated, group members openly wondered just how they would make such recommendations.
Politics, money and economic realities all came into play, with various possibilities for making things happen — including passage of a bond issue that would finance upgrades, expansions and even construction of elementary schools — being discussed:
• Chuck Epp, representing the Cordley School community, noted that group members may not be able to count on approval of a bond issue for construction: "In the current climate, we may have to realistically plan for an unsure bond."
• Dawn Shew, representing the Kennedy School community, cautioned against expanding the group's menu of considerations too far from the idea of consolidations, no matter how difficult the issue may be emotionally: "If all things become possible again, we lose our focus and I'm not sure we can get anything done."
• Sally Kelsey, representing the Cordley community, said that determining what would be best for the overall community would be one thing if a bond issue passed. "It's a different question: What would be best for our community if we don't have a (successful) bond issue?"
• Dennis Hill, representing Hillcrest School community, suggested that consolidating schools could end up having unintended consequences: "It will guarantee that we will have to build a school in a different part of town."
The working group's next meeting is set for 7 p.m. Nov. 7 at district headquarters, 110 McDonald Drive.
•••
Facilitators approached the end of Monday night's meeting of the working group by suggesting that members come up with potential consolidation scenarios during the next few weeks.
Email possibilities to them, the facilitators said, and then the ideas all would be distributed so that the working group would have some ideas to talk about during a "brainstorming" session during the Nov. 7 meeting.
Not so fast, group members said.
Before suggesting potential solutions, members first want to see information they've requested and are still expecting, including:
• Data regarding race in elementary schools.
• A presentation addressing English as a Second Language programming — specifically, what would happen to it if one or two of the district's two "cluster" sites for ESL (Cordley and Hillcrest) were eliminated as part of a consolidation plan.
• Responses from members of the Lawrence school board to questions posed by the working group.
Only after the information's all in and members have had a chance to consider the numbers and effects — expected Nov. 7 — will the working group's members sit down to mull potential scenarios, likely two weeks later.
"There's a lot of creativity in this room," said Leslie Newman, a representative from the Hillcrest community.
Recommendations are due to the Lawrence school board in February.
Copyright 2018 The Lawrence Journal-World. All rights reserved. This material may not be published, broadcast, rewritten or redistributed. We strive to uphold our values for every story published.