Photo Gallery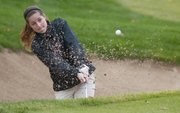 Lawrence High, Free State golfers at Class 6A state
Class 6A State golf
Team scores: 1. Blue Valley North 349, 2. Garden City 370, 3. Shawnee Mission East 379, 4. Olathe Northwest 385, 5. Washburn Rural 388, 6. Blue Valley West 405, 7. Manhattan 410 8. Maize 418, 9. Lawrence 446, 10. Hutchinson 469, 11. Derby 512, 12. Shawnee Mission South 515.
Medalist: Mackenzie Thayer, Garden City, 81 (playoff).
LHS results: Attie Pennybaker 109, Anna Wright 111, Abigail Schmidtberger 112, Quillen Eichhorn 114, Payton Covert 116, Campbell Drake 121.
Free State results: Liz Hazlett 142, Madison Brumley 155.
Olathe — Lawrence High junior Attie Pennybaker wasn't pleased with her 109 after finishing with the early group at Monday's Class 6A state golf tournament.
But as more golfers finished, she realized her score was about the norm because of the difficulty of Shadow Glen Country Club.
"It makes me happier," she said. "I'm still not very happy, though."
The Lions finished in ninth place of 12 teams after a cold and rainy day that took its toll on the girls. The LHS golfers counted 91 participants on the scoreboard, and only a handful broke 100. None broke 80.
"It's a true sign of how difficult this golf course was," LHS coach Mike Lewis said.
The Lions were closely bunched, with junior Anna Wright shooting 111, sophomore Abigail Schmidtberger 112 and junior Quillen Eichhorn a 114.
Free State's two state qualifiers — Madison Brumley, 142; and Liz Hazlett, 155 — had trouble with the course as well.
FSHS coach Craig Hershiser felt what his girls were going through.
"As a golfer, I could say this course could get into your head pretty easily," he said. "From watching the kids play, that happened to a lot of girls."
Hershiser said the hazard lines and out-of-bounds areas hurt his team.
Pennybaker's issues came from putting. After this experience, Pennybaker said she could learn a lot from playing one of the toughest courses.
"I had a couple holes where I made awful mistakes that I could have easily fixed," she said.
Both teams have made appearances at state the past couple of years, but both Lewis and Hershiser said their programs have bright futures. Out of Lawrence's top six players, only senior Payton Covert is graduating.
Lewis is excited about the talented youth on his team.
"We've got a good core group of golfers," he said. "I think they're going to get better each year. We've got a couple years for most of them to be around."
Copyright 2018 The Lawrence Journal-World. All rights reserved. This material may not be published, broadcast, rewritten or redistributed. We strive to uphold our values for every story published.