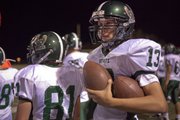 Markus Lisske knew he already was adding on another year of academics by leaving his native Germany, coming to Lawrence and enrolling as a junior at Free State High School.
So the exchange student figured he may as well strap on pads, put on a helmet and hurl his 150-pound frame into three-hour practices every day at the Firebirds' stadium.
What better way is there to learn about America than to play football, the most American of sports?
"I just wanted to try something new and get a new experience from a very different sport," says Lisske, a backup kicker who has played soccer and run track back home in Bernsbach. "I don't have the chance to play American football in Germany — it's absolutely not popular — so I just decided to try something completely new."
The 16-year-old arrived a day and a half before the Firebirds' first football practice, and he's been at it ever since: lifting weights, running sprints, learning plays, launching punts, reviewing films, kicking field goals and running some more.
And all that comes after more than an hour of homework following seven periods of classes — all in English — that start with U.S. Government in zero hour, which begins an hour after he awakens at 6 a.m.
All this for grades that won't ever show up on his transcript. He'll return to Germany as a junior, just as he would have been had he never left.
"That's not the goal to come here, to get good grades," Lisske says. "They wouldn't care if I failed a test. I'm here for the experience, to improve my language and other things. That's the main goal."
It helps that his teammates and coaches have embraced Lisske as a full-fledged football Firebird, occupying No. 13 on the roster and standing tall as a fixture on the sideline.
"It's been easy for me, and a lot of the other guys, to get a lot more respect for Markus because he's been able to go through all this and actually continue on," said Kale Joyce, a senior kicker who regularly practices with Lisske, who in turn assists Joyce with his German I homework. "He's done very well."
While Lisske has handled some kickoffs in JV games, he has yet to see action in a varsity contest.
He almost scored his big shot during Homecoming game, with the Firebirds up, 42-7 on Shawnee Mission Northwest and driving for yet another TD.
"Coach came up to me and said, 'You will kick the extra point if we score a touchdown,'" Lisske recalls. "We were, like, five yards from the end zone. And we were pretty sure to score a touchdown."
The mental preparations began. A chance to score. Under the lights. Homecoming.
Perfect.
Until he looked at the scoreboard.
"They decided to let the time run," he says. "I was like, 'Noooo!' Really, it was too bad I didn't get a chance to kick the ball."
Coach Bob Lisher is hopeful that Lisske will get his opportunity by season's end.
"He has the mentality," Lisher says. "He wants to get better."
Lisske's dedication carries over to the classroom, too.
While he knows his courses don't "count," and no credits will transfer back in Germany, and he'll still be a junior when he goes back home, Lisske isn't treating his time in class as a vacation.
Try this schedule: U.S. Government. Lifetime Sports. Modern World History. Chemistry. American Literature. Mandarin Chinese. Algebra.
That's right: Mandarin Chinese, a language considered by many to be among the most difficult to learn, one whose teacher at Free State actually isn't at Free State at all — the instructor talks to students at Free State from Kansas University, via Skype.
And as a German, Lisske finds himself mentally translating everyone's English words into German, then coming up with answers in German, and then translating those answers back into English.
Add in Mandarin Chinese — "I just wanted to do a fun class," he says with a laugh — and Lisske is plenty comfortable being plenty busy.
Football? Chinese?
Learning such foreign languages is what this whole exchange-student experience is all about.
For the record: Communicating in Mandarin Chinese is more difficult than picking up a vocabulary filled with screen passes, quarterback draws and onside kicks.
"The playbook is more understandable than the characters," he says. "Now, a playbook in Chinese? That would be the worst thing."
Copyright 2018 The Lawrence Journal-World. All rights reserved. This material may not be published, broadcast, rewritten or redistributed. We strive to uphold our values for every story published.