Photo Gallery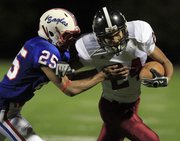 LHS vs. Olathe North
Olathe — Lawrence High has been on the threshold of becoming an elite team this football season.
After close losses to two of the best teams the Sunflower League has to offer, the Lions had a breakthrough Friday night.
LHS (5-2) had arguably its game of the season, beating Olathe North, 28-19, at the Olathe District Activity Center.
Senior Anthony Buffalomeat said he hasn't been a part of something that special his entire Lion career.
"This was probably the biggest win for our seniors since we've been playing," he said.
In its first district game, LHS overcame 12 penalties, a dominant opposing receiver and an O-North team (5-2) that was having its homecoming after its first loss of the season.
The Lions' first drive ended in an Anthony Rosen blocked field goal, his first miss of the season. The Eagles took over and scored the night's first points off of a touchdown catch by receiver Tanner Gentry.
Gentry burned the Lions for 159 receiving yards and three touchdowns. Most of that came in the first half. LHS did better containing him in the second half, but he was trouble throughout.
"He plays defensive player and plays wideout. Are you kidding me?" coach Dirk Wedd said. "He's maybe faster than anything we've got."
The Lions responded with their own touchdown when junior quarterback Brad Strauss found Buffalomeat for six yards. O-North missed a field goal on its next drive, then a 65-yard run by junior Tyrone Jenkins set up a Strauss touchdown to junior Drake Hofer.
The Lions built a 21-6 lead and wanted it to stay that way as they went into halftime. But the Eagles found new life when a face-mask penalty led to another Jordan Bruce-to-Gentry touchdown with 17 seconds to go.
In the beginning of the third quarter, O-North was gaining momentum, and the Lion penalties weren't helping.
"When you play hard, it's going to happen," Wedd said of the nine second-half penalties. "We just have to straighten those out, and we will."
Gentry caught his third touchdown, and a 15-point Lion lead was down to two. LHS went three-and-out, and a bad punt set O-North up on the LHS 25-yard line. The Eagles were in prime position to continue their counter-assault, but, in what Wedd said was the play of the game, the Lions blocked a 34-yard field goal.
To take back control of the game, Strauss capped the next drive with a 31-yard touchdown scramble. The Eagles tried to get close, but with Buffalomeat's interception — one of four turnovers — with about two minutes left, he knew he had sealed the game.
"It felt pretty good," he said. "I had a lot of feelings."
Everyone heading back to Lawrence knew this victory was a statement. Not only was this is the first time the Lions beat the Eagles since 2005, but O-North has been one of the most successful football programs for years.
And LHS has been trying to get to that point.
"They know how to win, and we're learning," Wedd said.
LHS vs. Olathe North
LHS ON
First downs 15 16
Rushes-yards 24-176 30-131
Passing yards 194 259
Total Offense 370 390
Return Yards 70 63
Fumbles-lost 0-0 3-2
Penalties-yards 12-105 13-95
Score by Quarters
Lawrence 0 21 7 0 — 28
Olathe North 6 6 7 0 — 19
Individual Statistics
Rushing
Lawrence: Tyrone Jenkins 9-108, Brad Strauss 10-50 TD, Erick Mayo 4-11, Jordan Brown 1-7.
Olathe North: Orange Mooney 20-95, Treshawn Root 7-26, Jordan Bruce 3-10.
Passing
Lawrence: Strauss 15-23-194 3TD.
Olathe North: Bruce 15-31-259 3TD 2INT.
Receiving
Lawrence: Anthony Buffalomeat 5-77 TD, Erick Mayo 5-56 TD, Drake Hofer 4-56 TD, Jenkins 1-5.
Olathe North: Tanner Gentry 9-159 3TD, Trey Geiger 2-65, Mooney 4-23.
How They Scored
First Quarter
4:10 —Tanner Gentry 35 pass from Jordan Bruce. Jorge Rivero kick is no good. (Lawrence 0, Olathe North 6.)
Second Quarter
11:55 —Anthony Buffalomeat 6 pass from Brad Strauss. Anthony Rosen kick. (Lawrence 7, Olathe North 6.)
6:40 — Drake Hofer 15 pass from Strauss. Rosen kick. (Lawrence 14, Olathe North 6.)
3:23 — Erick Mayo 21 pass from Strauss. Rosen kick. (Lawrence 21, Olathe North 6.)
0:17 — Gentry 24 pass from Bruce. Two-point fail. (Lawrence 21, Olathe North 12.)
Third Quarter
7:12 — Gentry 19 pass from Bruce. Rivero kick. (Lawrence 21, Olathe North 19.)
1:48 —Strauss 31 run. Rosen kick. (Lawrence 28, Olathe North 19.)
Copyright 2018 The Lawrence Journal-World. All rights reserved. This material may not be published, broadcast, rewritten or redistributed. We strive to uphold our values for every story published.