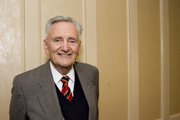 The benefactor of Thursday's Anderson Chandler lecture said this week he is pleased with what the series has become.
Chandler graduated from KU in 1948 with a degree in business, and was a Summerfield scholar. Today, he is the CEO, president and director of Fidelity State Bank and Trust Co. and vice president and director of First Bank of Newton.
He has supported KU with gifts of more than $1 million to support the lecture series and a an Anderson Chandler distinguished professorship. The lecture series has attracted people like Ford CEO Alan Mulally, former FDIC chairwoman Sheila Bair and Thomas Hoenig, the former president and CEO of the Federal Reserve Bank of Kansas City.
"I felt a lecture series would encourage more people to enroll in the business school," he said.
He has invited several speakers he knew himself from the Topeka area, like former Westar CEO Jim Haines, and the business school has suggested others, he said. Former Kansas Gov. Bill Graves and syndicated columnists Robert Novak and David Broder have also delivered the lecture.
"We're always looking forward, and getting timely people," he said.
Chandler went to KU on the GI Bill after enlisting in the Army Air Force at age 17. He was named an honor graduate of the United States Air Force ROTC program at KU, and received a reserve commission as second lieutenant, but decided to go into the family business of banking.
Neeli Bendapudi, KU's business dean, introduced Chandler on Thursday night, and said that the school was proud of his accomplishments.
"He has received every award we can think of at the school and the university," she said.
Copyright 2018 The Lawrence Journal-World. All rights reserved. This material may not be published, broadcast, rewritten or redistributed. We strive to uphold our values for every story published.