Olathe — Free State cornerback Kyle McFarland could already see the future when he lined up across from Olathe Northwest 6-foot-10 receiver Willie Cauley on the biggest play of the game.
Photo Gallery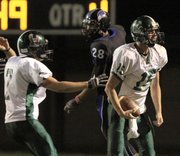 FSHS-Olathe NW football
"Everyone in the stadium knew where that was going," McFarland said following Free State's 20-14 victory over Olathe Northwest at CBAC. "Willie was out wide, and everyone knew he was going to that fade route."
Sure enough, with Free State clinging to a six-point lead and Northwest facing a fourth-and-10 on the Firebirds' 49 with 1:40 remaining, the Ravens threw a jump ball to the Sunflower League's best receiver.
Only this time, Cauley was outmaneuvered by the 6-3 McFarland, who leapt in front of him for an interception to help clinch the Firebirds' victory.
"It was fun," McFarland said. "It was a good feeling when I came down with it."
Before the play, Free State coach Bob Lisher and one of his assistants tried screaming at McFarland to get him to give Cauley a bit more cushion.
Though McFarland never heard either one of them, he still stuck right on Cauley to make the game-saving play.
"It was a great individual effort," Lisher said, "to get great position on him and go up and get the football."
Free State ran out the clock with three running plays, improving to 5-2 overall, 1-0 in district play and ensuring a winning season with two regular-season games remaining.
McFarland's interception capped an outstanding second half from the Firebirds' defense, which made a 20-14 halftime lead stand by allowing no points in the final 24 minutes.
After allowing Northwest quarterback Cole Dahlquist to complete 10 of 14 passes for 137 yards in the first half, the Firebirds defense held him to 3-for-16 passing in the second half for just 31 yards.
Free State linebacker Calloway Schmidt credited the second-half improvement to a switch in defenses.
After going with man coverage most of the first half, the Firebirds used more Cover-Two zone in the second half.
"With that, we were able to get under some passes, break them up and not allow those big plays anymore," said Schmidt, who added a second-quarter interception. "They weren't able to do what they wanted to do and get those long fade routes."
The change also limited Cauley, who caught just one pass for negative-two yards after halftime. He also had three second-half dropped passes.
"He's been pretty sure-handed all year on tape," Lisher said, "so that was a little bit surprising."
Free State won despite turning the ball over four times (three fumbles and an interception).
Luckily for the Firebirds, their defense came up with four takeaways of their own (two interceptions, two fumble recoveries).
"We are definitely aging coach Lisher," Schmidt said. "He's probably gained about 50 extra gray hairs."
Free State's defense limited Northwest (3-4) to just 57 yards rushing on 22 carries.
The Firebirds also held the Ravens to 22.3 points below their season average (36.3).
"We can't make things easy on ourselves," Lisher said. "Everything we do seems to be a struggle. But you know what, our kids are resilient, and they managed to come out on top."
Free State 20, Olathe Northwest 14
FSHS ONW
First downs 18 13
Rushes-yards 53-206 22-57
Passing yards 145 168
Total Offense 351 225
Return Yards 17 118
Fumbles-lost 5-3 3-2
Penalties-yards 6-51 5-41
Score by Quarters
FREE STATE 6 14 0 0 — 20
OLATHE NORTHWEST 0 14 0 0 — 14
Individual Statistics
Rushing
FREE STATE: Shawn Knighton 30-114, 2 TD; Kyle McFarland 18-73; T.J. Cobbs 3-11; Demarko Bobo 1-4; Stan Skwarlo 1-4.
OLATHE NORTHWEST: Connor Middleton 17-67, TD; Avery Parker 1-6; Cole Dahlquist 3-3; Team 1-(-19).
Passing
FREE STATE: Kyle McFarland 14-20-145, TD, INT.
OLATHE NORTHWEST: Cole Dahlquist 13-30, 168 TD, 2 INT; Connor Middleton 0-2-0 0TD, 0INT; Luke Knight 0-1-0 0TD, 0INT.
Receiving
FREE STATE: Chris Heller 2-38; Adam Joice 3-34, TD; Calloway Schmidt 3-29; Blake Winslow 2-21; Sam Hearnen 2-14; Tye Hughes 1-8; Shawn Knighton 1-1.
OLATHE NORTHWEST: Avery Parker 3-51; Willie Cauley 4-57, TD; Corey Kipp 2-23; Connor Middleton 1-22; Bryce Grimm 2-15; Nathan Power 1-0.
HOW THEY SCORED
First Quarter
00:10 —Shawn Knighton 20 run. Kale Joyce kick failed. (Free State 6, Olathe Northwest 0.)
Second Quarter
9:38 — Shawn Knighton 1 run. Adam Joice pass from Kyle McFarland. (Free State 14, Olathe Northwest 0.)
5:44 — Willie Cauley 22 pass from Cole Dahlquist. Riley Adam kick failed. (Free State 14, Olathe Northwest 6.)
5:12 — Connor Middleton 1 run. Middleton run. (Free State 14, Olathe Northwest 14.)
1:18 — Adam Joice 12 pass from Kyle McFarland. Kale Joyce kick failed. (Free State 20, Olathe Northwest 14.)
Copyright 2018 The Lawrence Journal-World. All rights reserved. This material may not be published, broadcast, rewritten or redistributed. We strive to uphold our values for every story published.