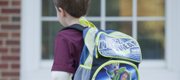 Subscribe to the email edition of First Bell and we'll deliver you the latest local education news and notes every weekday at noon.
Today is an off day for Lawrence public schools, something like a bye week for NFL teams heading into the weekend.
But like coaches and front office personnel who never seem to stop working, teachers and administrators will be on the job today, taking care of business.
While students won't be in class, teachers will be busy for their scheduled professional development/reporting and recording day.
And there's a difference this year for some middle school teachers: Instead of following the usual schedule — using half the day for reporting and recording grades, and the other half for professional development — teachers of sixth-graders will have the entire day to spend on grades.
That's because such teachers are facing something new themselves:
• First-time teachers of sixth-graders have not used standards-based grading — assigning E, S, M and T grades to student performance in each of six different standards, plus awarding of a single A, B, C, D or F letter grade — before, and therefore may need extra time to work through issues related to recording and reporting such grades.
• Teachers who have taught sixth-graders may have the experience — standards-based grading has been in place in elementary schools for several years — but such teachers have not used such grades in middle schools, which are new this academic year.
District administrators opted to make the entire day available for such teachers — and have people on site to assist with concerns, problems or anything else — after they heard complaints from parents and teachers alike that many teachers had not received enough training to employ such grading.
Today teachers can earn some credit for professional development through their grading, because they will be learning and working with a new system.
While today is the end of the first quarter for secondary schools, teachers in elementary schools — which follow a trimester schedule — will use today only for professional development. That's because there are no grades to record and/or report.
And don't forget: Middle schools will not have classes Thursday, as educators conduct parent-teacher conferences. Middle schools and both high schools will not have classes Friday, also for parent-teacher conferences.
•••
The Central and East Lawrence Elementary School Consolidation Working Group meets from 7 p.m. to 9 p.m. at district headquarters, 110 McDonald Drive, with members expected to review a pile of data they've requested to help them determine how to consolidate six schools into either three or four within the next two to three years.
Specifically, they expect to receive and review information regarding:
• Enrollment projections.
• Elementary transfers.
• School floor plans, including classroom usage.
• Background information for a school-capacity chart compiled by Gould Evans, a chart to be reconfigured to include a column to reflect the rate of usage in each school based on exclusion of existing portables.
• Race/ethnicity, socio-economic status (SES) and English as a Second Language (ESL) data by school.
The volunteer group, created by the Lawrence school board earlier this year — before four new members were elected and seated — is expected to send its recommendations to the board in February.
Members of the group come from the communities of six schools identified for potential consolidation by the board back in February — Cordley, Hillcrest, Kennedy, New York, Pinckney and Sunset Hill — plus Woodlawn.
Copyright 2018 The Lawrence Journal-World. All rights reserved. This material may not be published, broadcast, rewritten or redistributed. We strive to uphold our values for every story published.