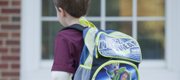 Subscribe to the email edition of First Bell and we'll deliver you the latest local education news and notes every weekday at noon.
This, from the Semi-Interesting Fact file:
The Lawrence school district ranks No. 15 on the city's list of largest water users.
Last year, the district ran 20,165,500 gallons of water through faucets, toilets, dishwashers, sprinkler systems and other equipment and fixtures throughout the district.
That placed the school system one spot behind Lawrence Memorial Hospital, and nearly on par with Alvamar, which operates two golf courses and ranks No. 12.
Topping the list: Kansas University, which last year drew 289,803,000 gallons of water from the city's system.
I know this only because I was searching around for water-related information last week, as I was putting together a story about how dry it's been so far this year in the area. If any inquisitive student out there needs some information for a science project or something, drop me a line.
•••
Speaking of science projects...
The Lawrence school district is gearing up plans for the 2012 edition of the district's Science Fair, set for Feb. 10-11 at South Middle School, 2734 La.
Students, parents and teachers looking to participate — or support a participant — are invited to attend a "How To" Informational Night. That's from 5:30 p.m. to 7 p.m. Oct. 17 at district headquarters, 110 McDonald Drive.
Among topics to be addressed during the event next week:
• What does an inquiry-based investigation look like?
• What types of questions could be investigated?
• What components should be included in a presentation or display?
• How does this relate to the Kansas math and Kansas science standards?
Fair registration opens Nov. 1 and continues until Jan. 30 through the district website, USD497.org. The fair is open to students in K-12.
•••
High schoolers and their parents are invited to attend a College/Career Fair, set for 6:30 to 8:30 tonight at Lawrence High School, 1901 La. The event will give attendees a chance to learn about a variety of educational and career opportunities, organizers say.
And folks interested in available services at the college level for students with IEPs and 504 Plans are invited to attend a Pre-College Fair Workshop, at 5:30 tonight in the library at Lawrence High.
Linda Wildgen, a transition specialist at Lawrence High who is retiring after 19 years in the district, reports that service providers from Kansas University, Johnson County Community College, and Kansas City Kansas Community College and Technical School will participate in a panel discussion to review available services and students' rights and responsibilities.
Also, a former Lawrence High student with a learning disability, and a parent of a student who has used services at the college level, will be available to share their experiences.
Copyright 2018 The Lawrence Journal-World. All rights reserved. This material may not be published, broadcast, rewritten or redistributed. We strive to uphold our values for every story published.