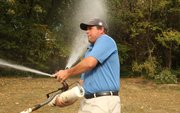 Recent months especially dry
In Lawrence, rainfall totals have been below normal in seven of the first nine months of 2011. Taken together, rainfall in those months fell about 11 inches short of normal.
Only two months — February and May — produced a surplus: a total of 0.49 inch.
Recent months have been especially dry in Lawrence:
• August: 1.78 inches (average: 5.12 inches).
• September: 1.17 inches (average: 3.39 inches).
With no rain so far in October, Lawrence already is 0.73 inch behind the monthly pace of 3.22 inches. And don't expect much relief, as the average rainfall for November is 1.32 inches and for December it is 1.1 inches.
It's enough for Mary Knapp, state climatologist, to reconsider her landscaping approach. She's been giving her trees and shrubs in Manhattan some deep soakings.
"I usually tend to be in survivalist mode: My trees have to deal with what Mother Nature has given them," Knapp said. "But this year I have gone out and watered … so they can make it through the winter."
Grass seed needs a fine mix of soil, sun and moisture to grow.
Too bad Mother Nature is being stingy these days with the wet stuff.
"I'm hoping I get rain — obviously," said Rex Huston, soaking his lawn along Harvard Road one evening, following six previous evenings of soakings and lamenting the likelihood of at least 14 more dry days to come. "All I'm doing is watering."
Welcome to the club.
Throughout Lawrence, surrounding communities and adjoining rural areas, the parched earth is thirsting for moisture.
How much?
Consider this: The city of Lawrence has received just 20.5 inches of rain so far this year, about 36 percent less than normal.
That missing moisture — about 11 inches, spread out across 34.7 square miles — means that the community has missed out on 67.7 trillion gallons of water.
"That's a ridiculous amount of water," conceded Matt Bond, the city's stormwater engineer, who regularly calculates capacities for drainage basins, flow rates and other drainage data.
Talk about ridiculous: To catch up, Mother Nature would need to fill a watering can the size of Clinton Lake and pour it over the city. Then she'd need to do it again, provided she could pull back and hold a little of the water — OK, 9.9 trillion gallons — in reserve for the coming months.
Dry weather has a way of turning moist soil into hard ground.
"Unless it falls in a gentle fashion, it'll run off just like it's hitting asphalt," Bond said. "We hope that's not the case."
Farmers are hoping it rains soon. They have lost half of their corn crop, and soybeans look to suffer the same fate. Alfalfa and brome grasses may not get enough moisture to make it through the winter, and hard red winter wheat will struggle to get out of the ground and survive into the new year.
Bill Wood, director of K-State Research and Extension in Douglas County, recently visited a farmer who had dug a trench 4 feet deep — cutting through soil that failed to yield a single inch of water.
"It's hard, just flat hard," said Wood, who tours the county to visit with farmers and other ag producers. "We have cracks around people's foundations, cracks in yards, cracks in fields.
"We're at the point if you dropped your phone or your pliers out of your pocket, you wouldn't find them."
The dry conditions prompted Douglas County commissioners to issue a burn ban Wednesday evening, making it illegal to start campfires, trash fires and other outdoor burns in unincorporated areas of the county. Lawrence-Douglas County Fire and Medical no longer is issuing burn permits in the city of Lawrence.
Kent Morgison, superintendent of Alvamar Golf and Country Club, simply is trying to keep his lawns watered — in his case, that means the grass aprons surrounding each of the 36 holes at the complex's two golf courses.
If he doesn't keep the ground moist and the plants healthy, Morgison said, the turf would struggle to come back in the spring. And he's not about to chance that.
"It's as dry as I can remember it being," said Morgison, who has been at Alvamar since 1997. "We're probably using as much water in September and (so far in) October as we normally would in July."
Unfortunately, the coming months aren't likely to bring much relief, said Mary Knapp, state climatologist.
Another La Niña is setting up in the Pacific Ocean, with cooling water temperatures likely to once again steer the region's storm track to the north, she said.
"Which is not encouraging for our winter pattern," Knapp said. "Typically, when a La Niña is dominant in the Pacific, we have milder and drier-than-normal winters."
Which cycles back to Huston, over on Harvard Road. The retiree usually doesn't find himself watering his lawn — and certainly not the once or twice a day like he's doing now — but understands that such duties come when you reseed an entire lawn.
But there's hope: His tall fescue is sprouting, peeking out of the several tons of topsoil recently spread outside his front door. Three movable sprinkler heads are doing their jobs.
Now, if Mother Nature would just lend a hand ...
"You never know," Huston said. "You just keep on it."
Copyright 2018 The Lawrence Journal-World. All rights reserved. This material may not be published, broadcast, rewritten or redistributed. We strive to uphold our values for every story published.