Photo Gallery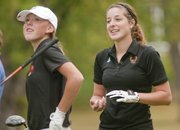 Lawrence High, Free State golfers at Class 6A regional
LHS, Free State results from 6A regional
Team scores: Shawnee Mission East 342, Lawrence High 389, SM South 430, Free State 465, SM West 4 81, SM Northwest 486.
Medalist: Anne Willman, SME, 72.
Lawrence High results: 4. Abigail Schmidtberger 93, 5. Payton Covert 93, 9. Quillen Eichhorn 101, 10.Attie Pennybaker 102, 16. Anna Wright 113, 20. Campbell Drake 117.
Free State results: 14. Madison Brumley 105, 17. Liz Hazlett, 114, 23. Karen Campbell 118, 29. Nicole Humphrey 128.
Lawrence High's girls golf team qualified for state for the second year in a row after a second-place finish at a Class 6A regional meet Monday at Alvamar Golf Club.
The Lions expected to finish runner-up to Shawnee Mission East.
"Their two top girls are the difference between us being right there on their heels or them getting away from us," LHS coach Mike Lewis said.
SME got away. The Lancers had the top two golfers at regionals: Anne Willman, who won with a 72, and Jessica Young who shot 79.
LHS shot 389 as a team, 47 strokes behind SME's 342. LHS senior Payton Covert and sophomore Abigail Schmidtberger led the Lions, each shooting a 93. Schmidtberger was awarded fourth and Covert fifth.
Covert said it was difficult to compete individually with the Lancers.
"We have five or six good golfers versus East, where they have one outstanding golfer and another very good golfer," she said.
Regardless, the team was very pleased with its performance, especially Covert, who has struggled lately. She shot a 108 in last week's Sunflower League tournament and shaved 15 strokes from that Monday.
Lewis said it was her mind holding her back. Covert said she played an all-around game and was especially pleased with a 20-foot putt on hole No. 18.
"That saved my score," she said.
The other two Lions who contributed to the team score finished in the top 10. Quillen Eichhorn was ninth with a 101, and Attie Pennybaker was a stroke back in 10th.
Two Firebirds qualify
Free State didn't qualify for state as a team, but two individuals — Madison Brumley and Liz Hazlett — did.
Coach Craig Hershiser said he thought his team as a whole played well this year, and he was pleased with a fourth-place regional finish.
"This has been a good team to coach and great to be around all season," he said. "If you can't get your team there, then it's good to get a couple kids there. It feels good at the end of the season."
Brumley shot a 105 Monday, which was around what she has been scoring all season. Hazlett was having a solid outing until the back nine slowed her down, yet she still finished with a 114. The other factoring scores came from Karen Campbell and Nicole Humphrey.
Hannah Whipple, one of the Firebirds' best golfers, didn't play because of illness.
"I know everybody wanted to shoot a little bit lower than they did. They always do. You have to feel that way," Hershiser said. But I'm happy with the two girls that are qualifying."
State will be Oct. 17 at Shadow Glen Country Club in Olathe.
Copyright 2018 The Lawrence Journal-World. All rights reserved. This material may not be published, broadcast, rewritten or redistributed. We strive to uphold our values for every story published.