Photo Gallery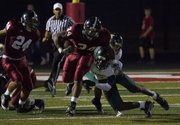 LHS vs. Shawnee Mission South
Another week, another dominant performance from Lawrence High junior quarterback Brad Strauss.
It doesn't seem to be getting old.
Strauss accounted for six touchdowns in Lawrence's 42-17 rout of Shawnee Mission South on Friday night. And he feels like he could have done more.
"Eh, I'm actually not too tired," he said in a post-victory chuckle.
Strauss went to work for the Lions right away, taking the opening kickoff 96 yards for a touchdown. He finished the game rushing for 115 yards and four touchdowns, and passing for another 134 yards and a separate score.
The only way his night could have been more spectacular is if he made a big play on defense.
"I haven't had an interception on defense since I've been here," Strauss said, "so it would be nice to get one."
It has been years since coach Dirk Wedd has coached such a dynamic player. Not since 1979, when his Wichita State team had a player named Prince McJunkins, who was the first player in NCAA history to pass for 4,000 yards and rush for 2,000 in a career.
Wedd said he has waited a long time for the next player like that to come along, and Strauss is the guy.
"This kid is the type of player that comes along once or twice in your coaching career," Wedd said. "So you'd better enjoy it."
SM South's standout running back, junior Gabe Guild, ran for 186 yards on Friday. Considering his 342-yard performance in his last game, LHS (4-2) bottled him up pretty well. Guild ran for 129 yards in the first half.
"We saw how good he was in the first half and he kind of woke us up," LHS senior Sean Thomas said.
The Raiders scored 17 points in the first half, keeping the Lions from getting comfortable. After LHS forced a punt in the first quarter, LHS muffed it and SM South's Ra'Keim Abdul ran it for a touchdown, tying the game, 7-7.
The best drive the Raiders had all night was a 10-play, 80-yard drive that ended in a touchdown. They also had a quick drive to end the half with a field goal. By that time, Strauss had run for three touchdowns along with the kickoff return, helping the Lions to a 28-17 halftime lead.
The Lions went on cruise-control after that with Strauss finding a wide-open Anthony Buffalomeat for a touchdown and another touchdown run. The defense put on the pressure, allowed the lead to build and eventually SMS (1-5) took Guild out of the game. The defense also forced two turnovers.
The backups who filled in for injured players also played well. DeCorey Pittman, who replaced Jake Vinoverski, had a sack and the newly established go-to running back, Tyrone Jenkins, ran for 53 yards on six carries.
"We always say the second-string guys are always one snap away from playing and you've got to be prepared," Wedd said.
At halftime, Reid Hildenbrand was named Homecoming king and Kelsey Kilburn was named queen. Hildenbrand is on the cross country team and swim team. Kilburn is captain of the volleyball team and an National Honor Society member with a 3.95 grade-point average.
l
Jackson gets his moment: LHS running back Charles Jackson made his first appearance since his season-ending injury two weeks ago, leading the team out on the field. He was in a wheelchair with his left leg wrapped up and appeared in high spirits.
"That was emotional for all of us and I'm sure it was for him too," Strauss said.
Copyright 2018 The Lawrence Journal-World. All rights reserved. This material may not be published, broadcast, rewritten or redistributed. We strive to uphold our values for every story published.