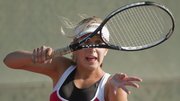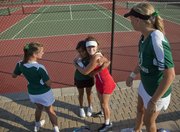 Three Lawrence High girls tennis players and three Free State High players qualified for the Class 6A state tournament after finishing in the top six at regionals on Friday at the Lawrence High Tennis Facility.
Free State's Alexis Czapinski went 3-1 in singles play and finished in second place, while the Firebirds' doubles team of Caitlyn Tilden and Guin Toalson went 2-2 and took fourth place.

Lawrence's Chloe Clement went 3-1 in singles play and finished in fifth place, while the Lions' doubles team of Taylor Eubanks and Abby Gillam took fifth after going 3-1.
Shawnee Mission East took first as a team on Friday, while Free State took second, Shawnee Mission Northwest third and Lawrence High fourth.
LHS coach Chris Marshall said he was especially impressed with how well Clement, a freshman, did at what he called a "tough quality tournament."
"Walking into this, I wasn't sure if we could get anyone to state, and to get three people, it's just exceptional," Marshall said. "I'm so proud of them."
The state tournament will be held next Friday at Riverside Country Club in Wichita.
Copyright 2018 The Lawrence Journal-World. All rights reserved. This material may not be published, broadcast, rewritten or redistributed. We strive to uphold our values for every story published.