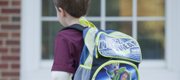 Subscribe to the email edition of First Bell and we'll deliver you the latest local education news and notes every weekday at noon.
The Lawrence school district's Adult Education Center is preparing for an open house, set for 5 p.m. to 7 p.m. Oct. 10 at 2145 La.
Refreshments will be served as visitors learn about the center and the services it provides. The center is home to the district's Adult Learning Center, Parents as Teachers, the Lawrence Diploma Completion Program, and Native American Student Services.
The center also is home to classes offered by Johnson County Community College.
The Adult Education Center now occupies the former Centennial School building that had been used by the Lawrence Virtual School, which moved this past summer to the former Wakarusa Valley School near Clinton Lake.
Sharen Steele is administrator of the center, and I plan to share more information about the center's offerings and operations — including scholarship programs and donation opportunities — in the coming weeks.
• • •
Looks like the C-SPAN 2012 Campaign Bus will be putting some students at Lawrence High School to work this week.
As we've mentioned previously, the bus is set to be in Lawrence on Friday — visiting Free State and Lawrence high schools — and Saturday, with a stop at the Lawrence Public Library.
Jason Lichte, a Latin instructor at Lawrence High, provided this report through the district:
"C-SPAN's Campaign 2012 Bus will make a stop in Lawrence on its 'Road to the White House' tour. As part of the tour, 10 Lawrence High students have been selected to be a part of the interview process for Leo Hindery, a member of Patriotic Millionaires for Fiscal Strength. The students will ask questions via Skype as they are featured on the nationally syndicated television call-in show, 'Washington Journal.' "
The students, and their grades in school: Taylor Kidder, 12; Puja Shah, 10; Sarah Sutterfield, 11; Sadie Keller, 9; Natalie Wilkins, 12; J'Qui Audena, 12; Abbey Berland, 10; Maddie Backus, 12; Reid Hildenbrand, 12; Kharon Brown, 11.
• • •
It's sign-up time for girls looking to play middle school hoops.
Here's the dispatch from Lawrence Parks and Recreation:
Girls sixth, seventh and eighth grade intramural basketball registration being accepted
Lawrence Parks and Recreation Department is accepting enrollment for the 2011 middle school intramural 6th, 7th and 8th grade girls basketball leagues.
The objective of the intramural program is to teach the fundamentals, skills and rules needed to better prepare participants for school team competition. Participants will have the opportunity to play basketball in an organized, competitive, yet recreational setting.
Practices will be held at each middle school beginning the week of Oct. 24. Games will be held at Holcom Park Recreation Center on Saturdays, Nov. 5 through Dec. 17.
Cost is $55 per participant. Coaches will be provided for each school. Registration deadline is Thursday, Oct. 14.
Register online at lprd.org or at any Parks and Recreation facility, including:
• Community Building, 115 W. 11th St.
• East Lawrence Recreation Center, 1245 E. 15th St.
• Holcom Park Recreation Center, 2700 W. 27th St.
• Lawrence Indoor Aquatic Center, 4706 Overland Drive.
• Prairie Park Nature Center, 2730 Harper St.
• Administrative Offices, 947 N.H.
• South Park Recreation Center, 1141 Mass.
Registration forms may also be found online, or at any of the middle schools' offices.
For more information, please contact the Youth Sports Division at Holcom Park Recreation Center, (785) 832-7940.
Copyright 2018 The Lawrence Journal-World. All rights reserved. This material may not be published, broadcast, rewritten or redistributed. We strive to uphold our values for every story published.