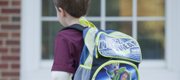 Subscribe to the email edition of First Bell and we'll deliver you the latest local education news and notes every weekday at noon.
Parents of students at Langston Hughes School soon will get a chance to learn about standards-based grading directly from the administrator in charge of the system.
Angelique Kobler, director of curriculum and instruction for the Lawrence school district, is scheduled to address parents of third-, fourth- and fifth-grade students during a presentation from 6 p.m. to 7 p.m. Oct. 10 at the school 1101 George Williams Way.
The topic: "Understanding Your Child's Progress Report."
The issue has been of intense interest recently, as several parents of current and former Lagnston Hughes students took their concerns about the system to the Lawrence school board. They objected to the district's decision to retain standards-based grading in conjunction with traditional letter grades for sixth-grade students, who now attend middle schools.
Some parents also wondered why traditional letter grades — A, B, C, D and F — no longer would be given to fourth- and fifth-graders this year, after such grades had been issued along with standards-based marks for years.
Kobler will be available to answer questions about the decision to drop traditional letter grades for fourth- and fifth-graders, a move that will make such students' grading process the same as they've been following in grades kindergarten through third:
• E for "excels."
• S for "meets standards."
• M for "making progress."
• T for "targeted for growth."
Such marks are assigned to a number of expectations based upon state assessments on skills, plus the behaviors — turning in homework on time and being prepared for class, for example — considered optimal for succeeding in school.
"We are expanding the effective practices from K-3 to include 4-5," Kobler tells me.
Now she'll get a chance to take her message directly to Langston Hughes parents, some of whom have been the most vocal opponents of the system. Some of those parents are most concerned about the system rising up into middle school, and possibly being added in the future to 7th and 8th grades.
Among their major concerns is students missing out on how traditional letter grades are awarded, an experience some parents maintain is essential for succeeding in high school and beyond — where traditional letter grades count.
District administrators have reminded parents that sixth-graders still receive traditional letter grades, just as they have been receiving for a number of years. It's just that such students also will be receiving the standards-based marks, also as they have been for a number of years.
In any case, Langston Hughes Principal Jackie Mickel lined up Kobler's presentation back at the end of August. That was a month before parents went to the school board and offered their criticisms of the system and of the decisions and processes regarding the system during the past year.
•••
Today is International Walk to School Day, and that gives parents a chance to walk with their children as they make their way to their classes.
At Langston Hughes School, the school community also learns plenty.
Last year, as some 200 people walked in from the surrounding residential areas, parents and students were asked to educate themselves about the traditional safety rules: look both ways before crossing the street, never jump out from behind a parked car, etc.
School officials also asked them to take note of any safety problems they might notice along the way: tree limbs blocking views or sidewalks, cracks in pathways, potholes in crosswalks.
Last year, with plenty of road construction in the area, school officials then compiled a list of potential dangers and forwarded the concerns to city officials and others. In the end, safety was improved, reports Jackie Mickel, school principal.
Today's walkers will have the same opportunities, and Mickel is confident that the day's efforts will help encourage more kids to walk or bike to school.
And that's a good thing.
"We do have some traffic issues," Mickel said. "The more people that walk, obviously, the less congested the parking lot is."
Copyright 2017 The Lawrence Journal-World. All rights reserved. This material may not be published, broadcast, rewritten or redistributed. We strive to uphold our values for every story published.