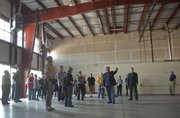 At a glance
• An agreement to purchase the 25,000-square-foot building, at 3701 Franklin Park Circle near Douglas County Jail, was finalized this week. The cost was about $1.7 million.
• The new shelter will have 125 beds, 50 more than the current shelter.
• The shelter has raised all but about $800,000 needed for the $2.7 million total estimated cost for the building and renovations.
• The shelter has received a $200,000 pledge from the U.S. Department of Housing and Urban Development, $78,900 from city of Lawrence stimulus funds, and a $540,000 matching grant from the Mabee Foundation. The shelter must raise the $800,000 by Nov. 24 in order to receive the Mabee Foundation grant.
• For more information, or to donate, visit lawrenceshelter.org.
City and county officials are on board, and the property's under contract to purchase.
Now, Lawrence Community Shelter officials just need $800,000 to make a new 125-bed home just east of Lawrence a reality.
"This is an exciting, big step for us," said John Tacha, Lawrence Community Shelter board chairman.
Tacha was joined by city and county officials Tuesday at the shelter's new location, 3701 Franklin Park Circle, to announce an agreement to purchase the building, which is a 25,000-square-foot warehouse next to Douglas County Jail.
The purchase agreement was solidified this week for about $1.7 million, Tacha said, and the overall cost for the building and renovations is about $2.7 million. The warehouse currently is owned by a group led by Lawrence businessman Tim Keller.
Misty Messinger, a current Lawrence Community Shelter resident, stopped by for a tour of the new facility Tuesday, and said a larger building is long overdue.
"It's awesome," said Messinger, who talked about the cramped conditions at the current shelter, where she lives with two sons. "They're boys. They like to throw the football."
But currently, such recreational activities are difficult at the building at 214 W. 10th St. The shelter, which has a capacity of 75 people, has routinely been seeing 100 or so requests for shelter daily. The shelter uses several sites to house people when it reaches capacity, Tacha said.
"It's just not adequate," Tacha said of the current building.
Loring Henderson, shelter director, gave visitors a tour of the new site, pointing to areas of the warehouse where they'll have family programs, a recreation area, job training and a garden on the four acres of property.
"There's some exciting things we'll be able to do here," Henderson said.
Shelter leaders said they hope to be in the new building within the next year. Including several matching grants and city stimulus funding, nearly $2 million of the overall cost has been raised. However, Henderson said they were under a tight fundraising deadline, as they must raise the $800,000 by Nov. 24 to receive a $540,000 Mabee Foundation matching grant. Further details about the fundraising campaign will be released in the coming weeks, Henderson said.
Copyright 2017 The Lawrence Journal-World. All rights reserved. This material may not be published, broadcast, rewritten or redistributed. We strive to uphold our values for every story published.