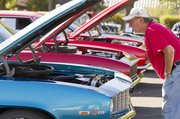 1955 Plymouths and slick-coated Mustangs. Ford Model As, Cadillacs, and even an old Ford Futura converted into a "Batmobile" complete with wings.
These cars were among the 170 antique automobiles at the Lawrence Region Antique Automobile Club of America's 39th annual car show at the Douglas County Fairgrounds on Sunday.
The historic cars filled the parking lot, drawing the awe of spectators and car owners alike. All of the cars were at least 30 years old, and most had a story behind them as well.
For example, Vince Hrenchir's 1978 Ford Fairmont Futura didn't always have bat wings on it. After the car was in an accident, Hrenchir, from Berryton, installed a black vinyl top on the car and started hearing comparisons to the Batmobile. Hrenchir took it one step further and installed black bat wings on the trunk. He has the Batman suit to match, which he wears during Berryton's St. Patrick Day Parade.
Sue Ryan, of Leavenworth, and her husband have several antique cars, including an army green 1931 Model A Ford. The vehicle has been around the Midwest and even on an 8,200-mile trip to Alaska. It is similar to a truck Ryan's brother owned in high school and eventually sold to her husband.
"Once he spotted it, he became very friendly to me," Ryan said.
Ralph Reschke, chairman of the car show for 17 years, showed three of his own cars Sunday: a red-and-black '55 Plymouth, a matching convertible and a black Model A Ford.
Reschke has been involved with the car show for more than 35 years. The show has eight to 10 different categories, and the public casts votes for the best in each class. Winners receive trophies. There are no entry fees to the fall show, but participants are not allowed to discuss car sales.
In addition to sponsoring the show, the LRAACA stays involved with the community. Sometimes members bring their cars to the Brandon Woods at Alvamar retirement home, and they donate the proceeds from their spring swap meet to charity. They also have a strong relationship with the fairgrounds, donating money and time to the facility.
"They're good to us, and we're good to them," he said.
Copyright 2018 The Lawrence Journal-World. All rights reserved. This material may not be published, broadcast, rewritten or redistributed. We strive to uphold our values for every story published.