Alicia Levin remembers what it was like to be looking around in the higher education job market. And it wasn't much fun.
Levin is a musicologist, meaning she's something like a music historian. She earned her Ph.D. from the University of North Carolina in 2009 and finally got hired on a tenure-track position in the Kansas University School of Music this year.
"It was a horrible experience," she said. "I wouldn't recommend it."
As universities across the country face state budget shortfalls and are feeling the effects of a slumping economy, it creates a backlog of qualified applicants to fill open professor posts. And for departments looking to hire new positions, the situation has meant they often can attract their top choices among the large pool of applicants to come to the university.
It was a lot of checking up on websites that tracked open positions in the field. Some of the sites allowed users to post updates on how the job searches were going, so she could watch as jobs she'd applied for moved to the phone interview stage, and then through the process until they were filled.
For others, including Jacob Dakon, a Ph.D. candidate at Ohio State University, the search went a little better. He was able to secure a position on the music faculty right out of his doctoral program.
"I just got lucky," he said. He said put in 11 applications, and KU was the first to call. He was able to wind up with the position.
"I never heard from any of the other universities," he said.
The market can vary across the disciplines. The Modern Language Association reported that the number of jobs advertised with the organization stabilized in 2010-11, increasing by 8.2 percent for English positions and 7.1 percent in the foreign languages.
But the positions are still down at about a third below their 2007-08 peak.
The American Historical Association reported that jobs posted with its organization fell 29.4 percent in the academic year 2009-10, to its lowest point in 25 years. The 569 advertised positions "marks a precipitous fall from the historical high of 1,059 advertised positions recorded just two years ago," wrote Robert B. Townsend, the AHA's assistant director, who tracks the jobs data annually.
While the available number of jobs were falling, the AHA reported that the number of people earning doctoral degrees continued to rise slightly, up to 989 in 2009-10, from 969 a year before.
Marta Caminero-Santangelo, chairwoman of KU's English department, said the market has meant more options for her department.
"It's a buyer's market," she said. "We've definitely been able to get our top choices."
For a tenure-track assistant professor position, applications typically range from newly minted Ph.D. candidates to people who already have assistant professorships at other schools, she said. Tenured associate professor posts typically attract associate professors from other schools, she said.
KU hired two new English professors this year — one assistant professor, and one associate professor, Caminero-Santangelo said.
"We've got extremely high-qualified people competing for the jobs we're offering," she said.
Levin said that more qualified candidates in the pool can contribute to the backlog of people looking for jobs. The people who earned doctorates in 2009 typically will take a non-tenured lecturer position and then try again in 2010, 2011 and so on. Every year, they have to compete with a new crop of candidates, too.
"While it was a difficult process, it was definitely affirming," Levin said. She said she got great support from colleagues and others along the way. "There's no group I'd rather be a part of."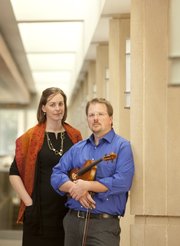 Copyright 2018 The Lawrence Journal-World. All rights reserved. This material may not be published, broadcast, rewritten or redistributed. We strive to uphold our values for every story published.