Photo Gallery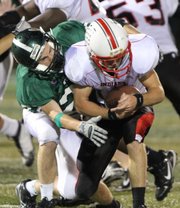 Free State football vs. Shawnee Mission North
After rumbling for 445 yards and six touchdowns on the ground against Shawnee Mission Northwest last week, it would have been easy to assume Free State High would run, run and run some more against Shawnee Mission North on Friday night at FSHS. So Firebirds head football coach Bob Lisher did what any good coach would do. He aired it out early.
Junior quarterback Kyle McFarland hit senior Ryan Patterson for a 48-yard strike on the first play from scrimmage to establish a passing game that would keep the Indians on their heels for the rest of the night in Free State's 35-0 walloping of SMN.
"Last game we didn't pass a lot, and coach wanted to show them that we didn't lack a passing game so we came out and passed the ball and did what we needed to do," Patterson said.
Lisher said he wanted to open up the run game by passing early.
"We had a suspicion looking at tape all week that we could throw the football on them," he said. "We were hoping it would loosen them up a little bit tonight and back them up off the line of scrimmage. The first play that we threw, they blitzed three of their four linebackers, sent eight people at us and we were able to get it off. It turned into a big play. It wasn't the prettiest of plays but we got it there."
The throw kicked off a drive that ended on a 25-yard touchdown run by senior running back Shawn Knighton with 9:42 left in the first quarter. Knighton, along with McFarland, ran for more than 100 yards for the second game in a row. Knighton finished the night with 20 carries for 113 yards. McFarland ran for 146 yards and two scores on 10 carries. Those performances helped the Firebirds average eight yards per carry.
Knighton said his coach's strategy passing to set up a running attack worked out.
"I did know we were going to come in and throw it a lot. The receivers just came in and were making plays," Knighton said.
FSHS kicked off its second drive with two passes, which is all it would need to reach the end zone once again. McFarland hooked up with Patterson for 17 yards, then found junior Tye Hughes on a 27-yard touchdown pass to increase the lead to 14-0 with 7:21 to go in the first quarter.
McFarland then took to the ground on the sixth play of the next possession, sprinting for a 65-yard touchdown run down the right sideline.
Shawnee Mission North (1-4) reached the red zone for the first time in the game on its ensuing drive with the help of a 52-yard run by shifty senior running back Matthew Maynard, who finished the game with 66 yards on nine carries. McFarland and Knighton caught up to Maynard at the 12 and brought him down out of bounds. Two plays later, Free State senior Calloway Schmidt kept up his strong defensive play with an interception with 37 seconds to go in the first quarter.
McFarland made a rare mistake the next quarter, throwing an interception after an Indians defender jumped his receiver's route. The Firebirds defense made up for that, forcing and recovering a fumble on the Indians' next drive. After a scoreless second quarter, Free State led, 21-0, going into the break.
Patterson reeled in his next big catch on the first drive of the second half - a perfectly placed throw over his shoulder in the end zone by McFarland to put FSHS up 28-0.
"When I lined up and he called the play I was kind of iffy, but we made the eye contact, did the head shake and it wasn't me, it was him," Patterson said. "He just dropped a dime right there in the pocket."
McFarland said that kind of communication is not uncommon between the two.
"On certain plays we look at each other and he's almost my go-to guy," McFarland said.
The quarterback drove the final nail in the coffin in the fourth quarter with his second rushing touchdown, starting down the left side and finding a gap to cut back right near midfield on his way to a 40-yard score.
"I was cutting back and the ends were trying to get outside all day long so our tight end just flushed them out," McFarland said. "There was a big hole and I just saw a cut-back and went. We had good upfield blocking too."
While putting so many points on the board looked impressive, Free State's defensive performance could not be overlooked. "Defensively, we've got to shore some things up," Lisher said. "Right now we're a bend-but-not-break defense a lot. We bent a lot tonight, but we didn't break. That's the good thing. Now we've got to get to the point where we don't bend so much."
The Firebirds (4-1) have a short week coming up, traveling to Shawnee Mission East on Thursday.
FSHS vs. SMN box score
FS SMN
First downs 14 12
Rushes-yards 37-299 43-194
Passing yards 157 21
Total Offense 456 215
Return yards 55 35
Fumbles-lost 0-0 2-1
Penalties-yards 8-71 2-10
Score by Quarters
Free State 21 0 7 7 — 35
SM North 0 0 0 0 — 0
Individual Statistics
Rushing
Free State: Shawn Knighton 20-113, 1 TD, Kyle McFarland 10-146, 2 TD, T.J. Cobbs 2-14, Joe Dineen 3-15.
SM North: Billy Carr 8-56, Ryan Theis 6-(-13), Matthew Maynard 9-66, Brock Burrows 11-67, Armando Contreras 1-14, Jesse Patterson 2-0, Jack Currie 1-17, Ryan Ruhulessin 2-(-2), Nick Finazzo 1-(-14).
Passing
Free State: McFarland 8-14-157, 2 TD, 1 INT.
SM North: Theis 3-7-21, Finazzo 0-1-0.
Receiving
Free State: Patterson 5-117, 1 TD, Ty Hughes 3-40.
SM North: Carr 1-23, Patterson 1-4, Burrows 1-(-6).
HOW THEY SCORED
First Quarter
9:42 — Shawn Knighton 25 run. Kale Joyce kick. (Free State 7, Shawnee Mission North 0.)
7:21 — Tye Hughes 27 pass from Kyle McFarland. Kale Joyce kick. (Free State 14, Shawnee Mission North 0.)
1:45 — Kyle McFarland run 65. Kale Joyce kick. (Free State 21, Shawnee Mission North 0.)
Third Quarter
7:20 — Ryan Patterson 30 pass from Shawn Knighton. Kale Joyce kick. (Free State 28, Shawnee Mission North 0.)
Fourth Quarter
9:30 — Kyle McFarland 40 run. Kale Joyce kick. (Free State 21, Shawnee Mission North 0.)
Copyright 2017 The Lawrence Journal-World. All rights reserved. This material may not be published, broadcast, rewritten or redistributed. We strive to uphold our values for every story published.