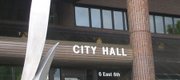 Subscribe to the email edition of Town Talk and we'll deliver you the latest city news and notes every weekday at noon.
News and notes from around town:
• UPDATE: This just in for folks who are interested in learning more about the proposed student housing community that will take the place of the Gaslight Village Mobile Home Park near 31st and Iowa streets. Executives with the development company — Texas-based Aspen Heights — will be hosting an informational meeting from 7 p.m. to 9 p.m. this evening at South Junior High School. The developers already have gotten word out to residents of the mobile home park, but they also want to invite anyone else from the community who has questions about the development. As we reported last week, the development is proposed to have 352 apartments totaling about 1,000 bedrooms.
Charlie Vatterott, executive vice-president of development for Aspen Heights, told me that the company hopes to break ground on the project by May and be open by August of 2013. He said he hopes tonight's meeting will show area residents that the project won't be a typical apartment complex. Vatterott said the company's entire business model centers on building student housing projects that mimic the suburban-style neighborhoods that students grew up in.
"About five years ago, there was a big shift in student housing," Vatterott said. "The industry realized students like to live in houses."
Vatterott said that trend has shown itself in Lawrence as more students move into neighborhoods that traditionally have been single-family in nature.
"It is probably utopian thinking on our part, but we would hope that projects like ours will cause students to move out of those neighborhoods and let them return to what they were really designed to do," Vatterott said.
Vatterott said Aspen Height's other properties have an average occupancy rate of 98 percent. He said he's confident the Lawrence market has plenty of demand for the proposed development.
"We're beyond optimistic," Vatterott said. "Hope is not a strategy. This project has been very well vetted."
• Whoever will be the next head football coach at Kansas University won't have a hard time finding a place to live in Lawrence.
Apartment projects are aplenty. (What, you don't think renting makes more sense than buying for a KU football coach?) Well, there is a new project to report. Actually, it is an old one that is gaining new life as Lawrence's apartment market booms for some reason. A previously approved plan for 131 apartments at 204 Eisenhower Drive in northwest Lawrence is going through the final stages of review at City Hall in order to be issued a building permit. The site is kind of behind the Walmart at Sixth and Wakarusa, which means the apartment complex would be adjacent to the site that city leaders are considering for a new recreation center. Lawrence architect Paul Werner is working on the project, and he said the property recently has been put under contract by Lawrence-based apartment developer Tim Stultz.
"If all goes as planned, we would hope to have them under construction in a few weeks," Werner said.
Werner said the development — estimated to be a $15 million construction project — mainly will be one and two-bedroom apartments in two-story buildings.
It is just the latest in a long line of apartment projects either under construction or proposed. Last week we reported on a plan to convert the Gaslight Village site near 31st and Iowa into a student living community with about 1,000 bedrooms. A 300-unit, $28 million apartment complex is under construction near Sixth and Stonegate, plans are proposed for a new 50-plus apartment complex near 11th and Indiana in the Oread neighborhood, work is wrapping up on a downtown apartment project at Ninth and New Hampshire, and plans are being considered for another one across the street. Plus there are several others that have been built within the last 18 months.
Werner said he thinks there are several factors in play for why apartment projects are ruling the day. One, it is the path of least resistance. Apartment projects seem to have an easier time winning approval than commercial projects do in Lawrence. But a more fundamental reason, he said, is a shift in housing dynamics. The economic downturn has created new demand for apartments, and at the same time, apartment dwellers have started demanding amenities that aren't often found in older apartment complexes.
"There are a lot of people who can't afford to buy a house, but they can still afford an apartment," Werner said. "And the new complexes are full. The older ones probably aren't. Something may have to happen to some of those older ones."
I think that point — along with low interest rates for developers who can get a loan — are key parts of the equation right now. I hear people all the time say "How can they build more apartments when there are so many for rent signs?" I think the key piece of information we're missing, is what type of apartments are empty. Are they new ones or are they old ones? I read this report that suggested the national vacancy rate for apartments is a little less than 6 percent, but it noted that "top-tier" apartment communities already are "essentially full."
It looks like if you give renters the option of living in a place with new amenities, they're willing to pay for it. Plus with interest rates low — which help keep development costs down — landlords may be able to offer those amenities at a lower rate than you would think. That makes it even tougher for an older apartment complex to compete. Ultimately, if this trend continues, it will create an interesting situation for Lawrence. What happens to the older apartment complexes in town that no longer can compete? Do they improve on their own? Do they redevelop into something else? Do they just sit there? Will one them be decorated with a dartboard with Texas Tech's president on it, and scattered with pirate paraphernalia? (Mike Leach likes pirates, but doesn't like Texas Tech administrators, in case you didn't know.) The answers to those questions — well, at least most of them — will go a long ways in determining what the city looks like in the future.
• Here is one lady that doesn't forget. (I've known several like that, actually.) Lois Hamilton is an Arkansas resident who is very concerned about Eudora's water supply. I wrote an article about Hamilton in April. She had just sent 3,000 postcards to Eudora water customers urging them to oppose a proposal by an area sand company to do pit mining near Eudora's water wells. Hamilton is a former Eudora resident who has donated land and water rights to the city in order for Eudora to have cheap access to water. She thinks the pit mining will harm the wells, while the sand company says it has studies that prove otherwise.
Well, Hamilton is at it again. She's sent out another mass mailing urging residents to show up at the Douglas County Courthouse on Dec. 7 to oppose the proposal by the Kansas City-area sand company. In April, Lawrence-Douglas County planning commissioners voted 7-1 to recommend denial of a permit for the plant, which would be just north of Eudora at 2102 N. 1500 Road. But Douglas County commissioners have the final say on the project. Normally, commissioners take up recommendations from planning commissioners in just a few weeks, but this one has taken months. No word yet on why it has been delayed to the point that a decision now stretches into the holiday season. But Hamilton, back in April, promised that she would follow this one to the very end. It appears she will. County commissioners are set to meet at 6:30 p.m. on Dec. 7 at the County Courthouse.
• Another group that intends to see things through to the end is the organization promoting the restoration of the old Santa Fe Depot at Seventh and New Jersey streets. On Saturday, Depot Redux will be hosting a dedication ceremony for the new $1.5 million outdoor boarding platform for the station. The project was funded through federal dollars awarded to Amtrak, which uses the station for two trains that travel through Lawrence daily. The platform project is the largest investment yet in the 1950s-era depot, which Depot Redux members hope will be taken over by the city as a restoration project. The dedication ceremony is set for 2 p.m. on Saturday at the depot, 413 E. Seventh Street. Speakers are scheduled to include: Mayor Aron Cromwell; state Sen. Marci Francisco; Marc Magliari of Amtrak; and representatives from Krische Construction and Burlington Northern Santa Fe.
Copyright 2018 The Lawrence Journal-World. All rights reserved. This material may not be published, broadcast, rewritten or redistributed. We strive to uphold our values for every story published.