Arzu Geybullayeva, a 28-year-old Azerbaijani citizen, knew her blog was taking off when the Israeli ambassador to Azerbaijan came up to her, introduced himself and offered a bit of advice.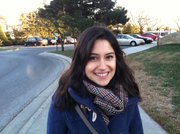 "This is great," he said of her blog. "But you should be careful about what you say."
Geybullayeva writes posts critical of the governmental system in Azerbaijan, a former Soviet republic of about 8.5 million people just north of Iran on the Caspian Sea. It has a democratically elected parliament and president, but Geybullayeva calls it a "so-called" democracy because the elections aren't free and fair, she said.
Her blog, "Flying Carpets and Broken Pipelines," has been circulated around among various Western embassies and is monitored by Azerbaijan's government. In it, she's called her people a "flock of sheep" and has sharply criticized the arrests of fellow activists and bloggers. Because of the postings, she hesitates about returning to her home country. Working in Istanbul, Turkey, she hasn't been to her home country in more than a year.
If she returns, she said she suspected she'd be taken to the country's interior ministry and could be arrested.
She's concerned about the economic conditions in the country — minimum wage is just more than $100 per month, she said — and about human rights abuses.
Freedom of expression isn't something they have, she said. Crackdowns on journalists are commonplace, and they've recently spread to bloggers and other younger activists.
Geybullayeva is at Kansas University this week talking to a variety of people. In addition to a scheduled presentation at the Dole Institute on Monday night, she'll be talking to students and other campus groups today and Wednesday.
She said the Arab Spring revolutions were an inspiration to her country.
"We actually attempted to have one of our own," she said.
She and others used social media tools to spread the word of gatherings on March 11. Her name was one of seven people added as organizers of the event, but she said she didn't sign off on that, worried more about the implications for her relatives than for her. But those who went to the protest site were arrested or became deterred by the large police presence, she said.
Erik Herron, a KU associate professor of political science, met Geybullayeva in Azerbaijan when they were both monitoring an election in 2008 and helped bring her to KU. While most of Geybullayeva's peers are worried about fancy cars and expensive phones, she's committed to higher ideals.
"She's accomplished more at 28 than most people do in a lifetime," he said.
Ask her what she'd like to say to Americans, who — at least locally — have been living in a world where a fired football coach has dominated the news cycle, and she pauses for just a moment. Being able to spend time worrying about who's coaching a football team isn't necessarily a bad thing, she said.
"Value what you have," she said. "Perhaps talking about the coach of a football team is the freedom we don't have."
Copyright 2018 The Lawrence Journal-World. All rights reserved. This material may not be published, broadcast, rewritten or redistributed. We strive to uphold our values for every story published.