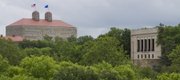 Subscribe to the email edition of Heard on the Hill and we'll deliver you the latest KU news and notes every weekday at noon.
Your daily dose of news, notes and links from around Kansas University.
• Congrats to law students Jill Moenius and Eddie Penner, who won the regional tournament of the National Moot Court Competition at the University of Missouri this month.
They'll be one of 25 teams competing at the national finals in New York from Jan. 30 to Feb. 2.
Here's a good wrap-up courtesy of the law student publication, the Kansas Law Free Press.
"I can't believe we let a team from Kansas win," said a former chief judge of the Missouri Court of Appeals, according to the publication.
I'll miss that banter when it's gone.
• KU will be testing its emergency alert text message system on Wednesday.
Students, faculty and staff who have signed up for the alerts will receive this message:
"THIS IS A TEST of the KU Alert text messaging system for situations of imminent danger on campus. This is only a TEST."
The system has been used in a variety of cases (lots of weather situations and a few other incidents, too), and has been pretty well-received from the comments I've heard.
More than 21,000 people have signed up for the alerts.
• The University Daily Kansan has named Ian Cummings, a graduate student from Overland Park, as its next editor-in-chief.
When I first arrived here, Kansan editors seemingly found themselves in the news a little more often.
Certainly none more so than Matt Erickson, who led an effort in 2008 to do away with a certain obscene football chant.
(I think, by the way, that chant is dying out, though it might just be a sign that fewer people are going to football games).
Like any good journalist, Cummings is tweeting away, and you can follow him here in case he decides to take up any similar causes.
• Rip my (expletive) head off with a good tip for Heard on the Hill at ahyland@ljworld.com.
Copyright 2018 The Lawrence Journal-World. All rights reserved. This material may not be published, broadcast, rewritten or redistributed. We strive to uphold our values for every story published.